So, you're a data-savvy and proactive Digital Marketing Manager?
As a Digital Marketing Manager at Cambridge Intelligence, you'll help our marketing team turn website traffic into leads, and prospects into happy customers.
What's involved?
You'll deliver, maintain and optimize effective digital marketing initiatives that drive traffic to our website, and convert that traffic into high-quality leads. We'll rely on you as an in-house technical and data expert, proactively analyzing trends and sharing insights that inform our marketing plans.
Who's the ideal candidate?
We're looking for someone with a methodical and analytical mindset – someone who can spot trends in data and imagine the best ways to take advantage of them. You'll be willing to experiment with new approaches, even if they sometimes fail.
Automated multichannel marketing campaigns can get complicated, so you'll need to combine excellent technical and planning skills with attention to detail. Our campaigns are already established too, so you'll need to grasp complexity quickly.
You should also like and understand technology: to make the most of our digital marketing stack, and to understand the data visualisation toolkits we sell.
Essential skills
Digital marketing and marketing automation experience.
A data-led, methodical approach to planning and experimentation.
Proactivity and enthusiasm – a constant improver and learner, looking for new things to try.
Knowledge of key inbound marketing concepts: buyer journey and persona models, content strategy, conversion rate optimization, SEO, email marketing and lead nurturing, lead scoring, attribution reporting, etc.
You might also have experience of
The tools in our marketing stack, especially HubSpot but also: WordPress, Google Analytics, Google Adwords, Microsoft Advertising, LinkedIn Ads, Asana, Yoast, Adobe Creative Suite.
Building and monitoring outbound campaigns.
A/B testing and digital marketing experimentation methodologies.
Marketing SaaS products, or technical products with a comparably complex value proposition, with demonstrable success.
Who you'll work with
Your closest connections will be with our content and campaign experts in the marketing team, but you'll work with other teams in the business too – including sales and product management. We also use external specialists for PPC and web development, so you'll need to be comfortable with managing contractors.
Opportunities to grow
Everyone here gets funded professional development time, with up to five days each year allocated to learning – whether that's new technical skills, marketing best practices, or anything else you'd like to improve.
Be yourself
We want to build a fair, respectful and welcoming company, where everyone feels at home. That means taking a long-term approach to equality, diversity and inclusion – not treating it as a tickbox exercise.
With the help of our EDI group, we're working to make every aspect of the business – including recruitment – fair, respectful and inclusive.
Download the job description [PDF]
Life at Cambridge Intelligence
Our data visualization tools are part of something big. They help catch criminals, stop cyber-attacks and unmask fraudsters. The work we do matters.
Our people are part of something big too – all great individually, but even better together. From developers to marketers, salespeople to accountants, we're a smart and inquiring bunch who love finding neat solutions to gnarly problems.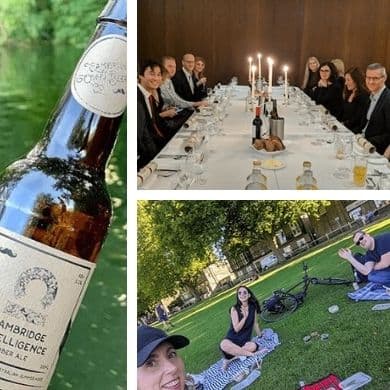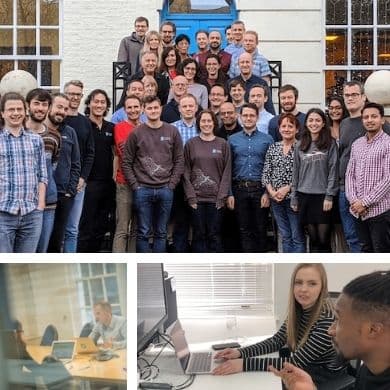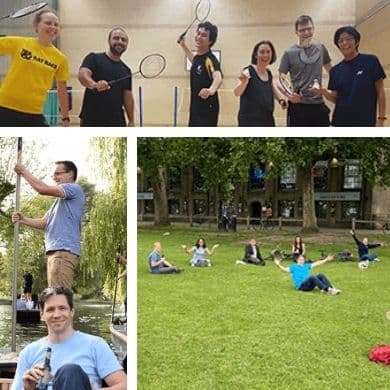 What happens next?
When you apply, we'll be in touch as soon as possible to get the ball rolling.
Our recruitment process varies by role, but we usually follow three steps to get to know you better.
1. Phone interview

Duration: 30 minutes
With: our talent manager
To check: you're right for the role
Preparation needed: review your your CV, re-read this job advert, and have a look around our website more generally.

This is an informal conversation to make sure we're not wasting your time.

We'll check if you have the right experience for the role and give you a chance to talk up your skills and achievements. We'll also discuss your reasons for wanting to join our team.

2. Panel interview

Duration: about 60-90 minutes
With: our head of marketing, plus a couple of people from the team
To check: your experience, knowledge and skills, and how you approach a challenge
Preparation needed: your presentation

This is your time to shine!

We'll ask you to prepare a short presentation, which you'll share during the interview.

Don't panic, though! This isn't designed to stress you out or trip you up. We want to see how you approach the kind of challenges you'll be solving if you were to join us.

After the presentation, we'll ask you some questions and then give you plenty of time to ask your own.

3. Last chat

Duration: 30 minutes
With: Joe, our CEO
To check: your motivations and aspirations
Preparation needed: none

This final step is an informal catch-up with our founder and CEO, Joe. He'll be interested to hear about your motivations for joining us, and what you'll bring to the team.

It's also a great chance to understand our business from a strategic perspective, and to see how your career will progress here.

Don't forget: it's a two way thing

Ask questions, share any concerns and let us know if we're unclear. We don't do trick questions, and won't aim to confuse you.