So, you're a people person who likes getting stuck into a variety of tasks?
As our office administrator, you'll help with everything, from dealing with suppliers and managing health & safety to organising company events.
What's involved?
Some of the role's core responsibilities include:
Office management
Answering phones and managing post
Monitoring and ordering office supplies (stationery, kitchen, etc.)
Liaising with the finance team on cost tracking and PO Numbers
Managing suppliers (cleaners, stationery & office equipment suppliers etc.) and their contracts
Project management of office improvement tasks
First aid
Fire marshalling
Joining our wellness and green initiative groups and owning certain actions and coordination tasks from it
Administration
Event administration; company annual events, seasonal initiatives etc.
Assisting the COO and other managers with administrative tasks
General administrative duties
Maintaining building maintenance logs
Liaising with maintenance contractors, negotiating prices and overseeing work delivery
Ensuring health & safety compliance
Are you a good match for this role?
If you're a helpful and organised person, with previous office management and administration experience, this is the role for you.
You'll need to be happy working with our team in the office, but also capable of working independently during quieter periods to get things done. You'll need a flexible approach to problem-solving too – able to take on new challenges and tasks as they arise. This is a role with lots of variety, with no two days the same.
You might also have experience of:
Google suite and Microsoft office
Supplier and contract management for cleaners, maintenance and security companies
General office management and administration experience
Coordinating events, as well as people and culture initiatives
Who you'll work with
Everyone! But you will work especially closely with IT, our finance team and our COO on IT equipment, suppliers contracts and general administration.
Opportunities to grow
This role comes with a great opportunity to grow within office and facilities management. There's no shortage of areas and opportunities to get stuck into. You'll have the chance to broaden your experience with contract management, event organising, environmental and wellness initiatives.
Be yourself
We want to build a fair, respectful and welcoming company, where everyone feels at home. That means taking a long-term approach to equality, diversity and inclusion.
With the help of our EDI group, we're working to make every aspect of the business – including recruitment – fair, respectful and inclusive.
Download the job description [PDF]
Life at Cambridge Intelligence
Our data visualization tools are part of something big. They help catch criminals, stop cyber-attacks and unmask fraudsters. The work we do matters.
Our people are part of something big too – all great individually, but even better together. From developers to marketers, salespeople to accountants, we're a smart and inquiring bunch who love finding neat solutions to gnarly problems.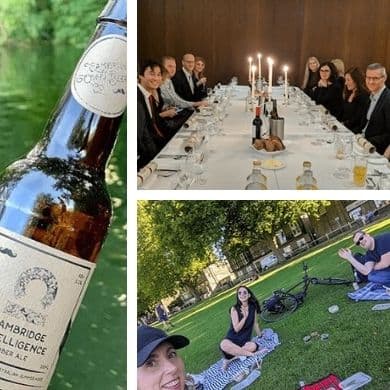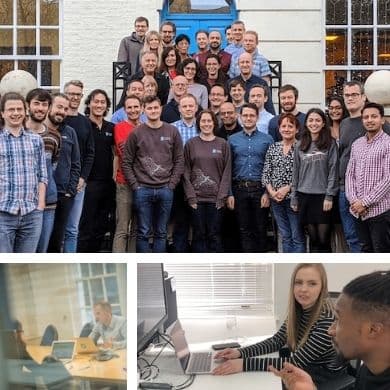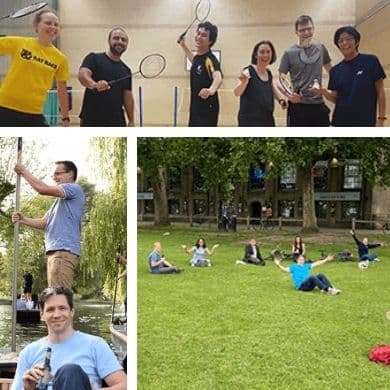 What happens next?
When you apply, if we agree that you seem a good fit, we'll be in touch as soon as possible to get the ball rolling.
Our recruitment process varies by role, but we usually follow four steps to get to know you better.
1. Phone interview

Duration: 30 minutes
With: our talent manager
To check: you're right for the role
Preparation needed: review your your CV, re-read this job advert, and have a look around our website more generally.

This is an informal conversation to make sure we're not wasting your time.

We'll check if you have the right experience for the role and give you a chance to talk up your skills and achievements. We'll also discuss your reasons for wanting to join our team.

2. In-person interview

Duration: about 60-90 minutes
With: our COO, and one other person from our team
To check: your experience, knowledge and skills, and how you approach a challenge
Preparation needed: have a think about your experience, and how it'll set you in good stead for this role

This is your time to shine!

We'll ask you questions about your experience, approach to problem-solving and general super-powers. We'll make suer you have plenty of time to ask your own questions, too.

3. Last chat

Duration: 30 minutes
With: Joe Parry, our CEO
To check: your motivations and aspirations
Preparation needed: none

This final step is an informal catch-up with our founder and CEO, Joe. He'll be interested to hear about your motivations for joining us, and what you'll bring to the team.

It's also a great chance to understand our business from a strategic perspective, and to see how your career will progress here.

Don't forget: it's a two way thing

Ask questions, share any concerns and let us know if we're unclear. We don't do trick questions, and won't aim to confuse you.