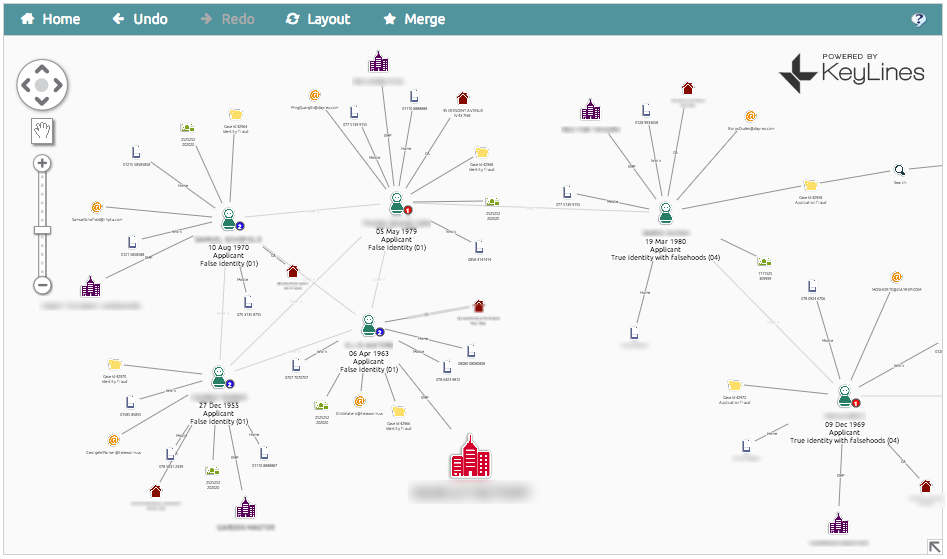 Cambridge Intelligence works with CIFAS – the UK's Fraud Prevention Service, to release a new version of the National Fraud Database's visualization platform, CaseLink.
CAMBRIDGE, UK – 24 September 2014 – CIFAS – the UK's Fraud Prevention Service, today released version 2.0 of the CaseLink platform, built by Cambridge-based data visualization firm Cambridge Intelligence.
CaseLink is an innovative tool that is used to visualize and analyze data from the National Fraud Database – a data sharing initiative between CIFAS' membership of over 300 organizations. Members of CIFAS can use CaseLink to access interactive visualizations of confirmed frauds, to uncover hidden connections and detect fraud rings.
The latest release of CaseLink includes an overhauled approach to data duplication, with a new method to merge superfluous or similar data. Combined with multiple user interface and interaction improvements, this new version will represent a significant improvement in the efficiency and effectiveness of the existing CaseLink system.
Each year, CIFAS collates details of 250,000 cases of confirmed fraud reported by their members. In 2013, the use of CIFAS data led to the prevention of £1 billion being lost to fraudsters. Cambridge Intelligence has been working with the not-for-profit organization, and its IT contractor CGI, since April 2013.
Kaush Kotak, Cambridge Intelligence's Project Manager said of the latest release:
"By combining CIFAS' unrivaled knowledge of the UK fraud landscape with our visualization know-how and experience, we have been able to radically improve how organizations see and understand fraud data. The new release will solidify CaseLink's position as a vital weapon in the constant fight against fraud."
Daniel Beckett, Head of Data Services at CIFAS added:
"Cambridge Intelligence has continued to be a very responsive partner, helping us to make ongoing enhancements to CaseLink, which is used by CIFAS members to create thousands of charts each year. This latest version, including the new merging functionality, will enable CIFAS Members to easily understand the most complicated fraud rings, enabling even more fraud to be detected and prevented."
Learn more about how KeyLines helps organizations detect and stop fraud.