NoSQL visualization
Connecting KeyLines to your NoSQL Datastore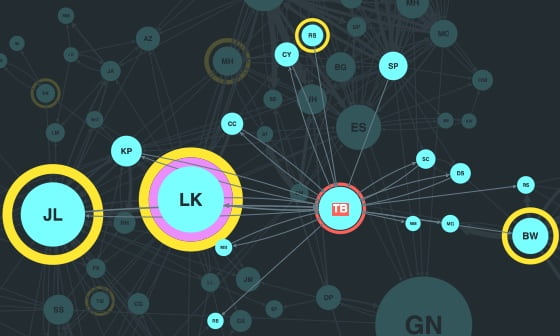 KeyLines is a database agnostic network visualization tool. This means it is compatible with any datastore you want to use, and NoSQL visualization is a popular choice.
What is NoSQL?
NoSQL (sometimes also called 'Not Only SQL') is a growing sector of the datastore market based around non-relational databases.
These systems offer excellent scalability, performance and flexibility, as well as simpler maintenance and cheaper hardware requirements. As a result, they're popular options for enterprise-level 'big data' and network visualization.
Categories of NoSQL Database
The data models broadly fall into three categories:
Key value / Column Stores
The most basic NoSQL data model, with each item stored as a name (or key) with a value, ideal for non-complex data. Examples include: CouchBase, DynamoDB, Cassandra, HBase.
Document Stores
Document stores – data stored as flexible objects known as documents, ideal when richer or semi-structured data is being stored. Examples include: CouchDB, MarkLogic, MongoDB.
NoSQL visualization from your datastore
You can learn more about the KeyLines toolkit, and how to visualize connected data, in the KeyLines white paper