The KeyLines Toolkit
The JavaScript toolkit for graph visualization
Build game-changing graph visualization products that turn connected data into insight.
Harness JavaScript's power and flexibility to quickly and easily build graph visualization applications that can be deployed anywhere, to anyone.
KeyLines is a completely flexible way to build your graph visualization application.
Uncover insight, understand threat
Connected data is everywhere. It's in financial transactions, communications records, IT networks and beyond. The best way to understand it is to visualize it.
Applications built with KeyLines offer new ways to join the dots in your data, revealing threats and hidden insight.
Are you using React? Check out ReGraph
KeyLines is
A flexible toolkit
The KeyLines JavaScript network visualization toolkit lets you build applications specifically for your users, your data and the questions you need to answer.
It fits with any browser, device, server or database and comes with clear tutorials, demos and API documentation. Combined with our developer support, you'll be uncovering network insight in no time.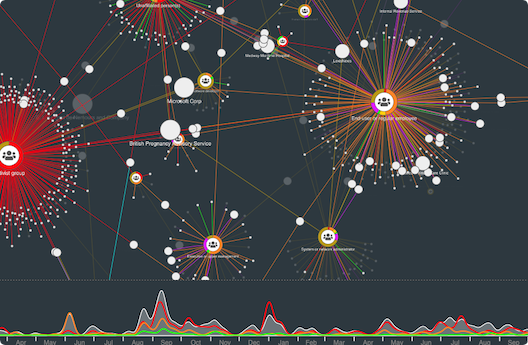 A powerful visualization engine
KeyLines makes it easy to build high-performance JavaScript network visualization tools that work anywhere.
They harness HTML5 and WebGL graphics rendering and thoughtfully crafted code to give users a fast and insightful visualization experience.
The scalable solution
Network visualization software works best when shared.
Applications built with KeyLines are powered by modern web technologies and can be easily rolled into other tools and deployed to anyone, wherever they are.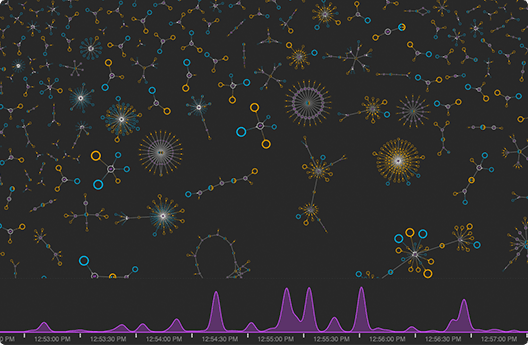 KeyLines' advanced functionality
Are you ready to get started?
Trusted by
Our customers span six continents. They range from pioneering startups to Fortune 500 companies and national governments.