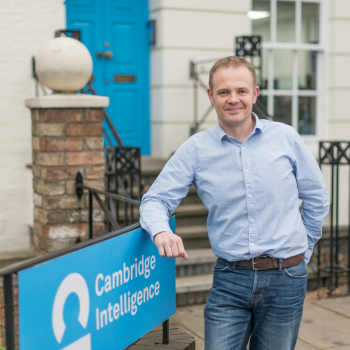 We've made changes in senior management, appointing Bryan Amesbury as our new CEO and reshaping our leadership team to support our next phase of growth.
Founded by Joe Parry in 2011, Cambridge Intelligence launched a new generation of flexible, lightweight and user-friendly connected data visualization tools for the law enforcement and intelligence sector. Today, more than a decade later, we have over 300 customers in 34 countries, ranging from national governments and banks to pioneering start-ups and well-known technology vendors. Law enforcement now forms just one part of our customer base, with particular growth in the domains of cyber security, fraud management and business intelligence.
"It's a hugely exciting new chapter for the business," says Joe, who has stepped down as CEO. "As an early-stage founder, I've needed to wear many hats – often speaking as chief exec, product manager, development manager and more, in a single meeting."
"But as the company has evolved, we've built a strong management team with a broad range of skills and expertise. In our second decade, we've begun harnessing that expertise to move away from a reactive approach to innovation, towards one in which we proactively drive growth."
Joe remains closely involved in the business in his new role as chair of the board.
I'm excited to have this opportunity to work with the team and build on our company's tremendous achievements.
Incoming CEO Bryan Amesbury has been an integral part of our leadership team since 2017, and brings extensive scale-up experience as a veteran of the enterprise software industry across the US, EMEA and APAC.
"I'm excited to have this opportunity to work with the team and build on our company's tremendous achievements," says Bryan. "Our track record of technology innovation and quality gives us an excellent basis for maximizing market opportunities for the business, as the importance of graph visualization continues to develop."
Bryan is supported by a new leadership team that includes Chief Revenue Officer Kaush Kotak, Chief Technology Officer Nick Collings, and Chief Financial Officer Chris Howell. These internal long-term hires reflect the organization's commitment to nurturing talent, and building a deep understanding of their customers' changing needs.