Our net zero plans
Climate change is the biggest challenge we face this century. We know that human activity is driving it. If we don't reduce our greenhouse gas emissions soon, the Earth will reach a tipping point towards irreversible and devastating damage.
At Cambridge Intelligence, we want to reduce our impact on the environment. We are currently a carbon neutral business, since 2019, and have committed to becoming a net zero business by the end of 2030.
Download our 2022 sustainability report, submitted to Tech Zero.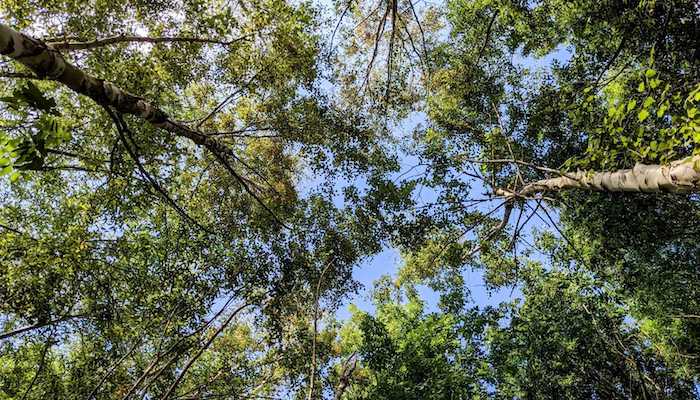 What's net zero?
Our activity generates carbon emissions. Whether it's driving to work, sending an email or turning on the air conditioning, it all results in carbon entering the atmosphere. This is our carbon footprint.
When that footprint is entirely balanced by verified carbon capture mechanisms like tree planting, it's called carbon neutral. We have been carbon neutral since 2019.
When we reduce our footprint as much as possible in line with a 1.5°C science-based target, and offset emissions that we cannot eliminate, this is called net zero. We aim to be net-zero by 2030, with a target to halve our footprint by the 2025/26 financial year.
Our carbon footprint
We commission annual audits, carried out by Green Finch Environmental Consulting, to measure our total emissions. These cover:
Scope 1 – our direct emissions, like those created by the gas heating system in our office
Scope 2 – our indirect emissions, like those generated by the electricity we use
Scope 3 – our other indirect emissions, like those associated with our business travel, supply chain or SaaS tools
It's difficult to find benchmarks for equivalent tech companies in the UK, so here are some of our numbers to help other businesses looking to make a change for the better:
In 2019/20, our total footprint was 255 tCO2e, or 5.6 tCO2e per employee.
In 2020/21, our total footprint was 139 tCO2e, or 2.7 tCO2e per employee. Our HQ was mostly closed this year.
In 2021/22, our total footprint was 201 tCO2e, or 2.9 tCO2e per employee.
tCO2e = tonnes of CO2 equivalent.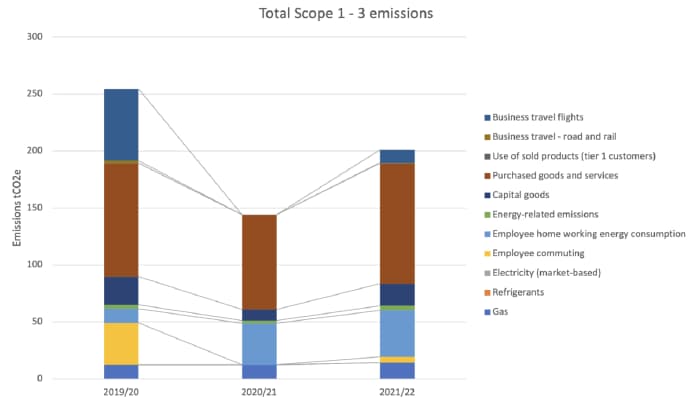 During 2019/20, just under half of our emissions came from purchased goods and services – or 117.7 tCO2e. This reduced to 84.6 tCO2e the following year. In 2021/22, this number was 105.7, reflecting an increased headcount.
Travel emissions – both commuting and business travel – accounted for 39% of emissions in 2019/20. In 2020/21, this dropped to 0 tCO2e as our entire business switched to remote working during the pandemic. For 2021/23, this increased to 16.7 tCO2e, or 8.3% of total emissions.
Our action plan
With every aspect of our business analyzed, Green Finch suggested 43 recommendations to reduce our carbon footprint and help us on our way to net zero. They covered everything from switching to eco cleaning products to replacing our Cambridge HQ gas-fired heating.
You can see our 2022 update, including future planned actions, here.
Our commitment to a net zero future
Being a net zero business isn't a short term commitment. We're in it for the long haul.
Our Environmental Policy will help us look beyond operational change to ensure we stick to our green credentials as we grow.
Specifically, we will:
Remain carbon neutral for every year from 01 June 2019, aiming for net zero by 2030
Aim to halve our total carbon footprint by the financial year 2025/26
Ensure our baseline emissions never exceed those of the year 2019/20, even as we grow
Keep our per-employee emissions below 2019/20 levels
Encourage the exchange of knowledge and ideas with other businesses
With the help of our Green Initiative Group, supported by the Cambridge Intelligence board, we're looking forward to a greener future. Let us know if you're a business interested in sharing best practices or metrics – we'd love to hear from you.