This page is from our blog archive
It's still useful, but it's worth searching for up-to-date information in one of our more recent blog posts.
Joe Parry, Cambridge Intelligence CEO, invited to discuss the effect of Big Data analytics on UK law enforcement with BBC Newsnight
CAMBRIDGE, UK – 22 March 2013 – Joe Parry, CEO and founder of Cambridge Intelligence, the creators of network visualization and analysis technology, was invited by BBC Newsnight, a daily BBC Television current affairs program, to discuss the impact of Big Data analytics on UK policing and security, especially the use of link analysis for law enforcement.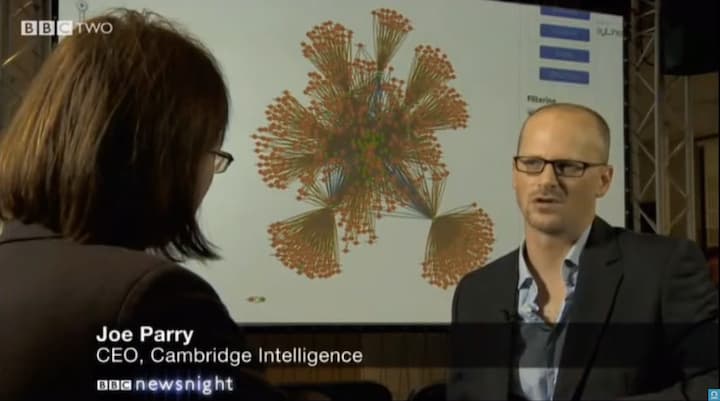 Susan Watts, BBC Newsnight Science Editor, presented an investigation into the use of Big Data visualization and analytics on UK policing. The report initially focused on the use of visualization to disentangle vast networks of criminal activity.
Joe demonstrated how the visualization of information helps to analyze and identify suspicious behavior from large data sets. Two actual scenarios were discussed:
the use of data visualization to identify terrorist cells and their links across geographic boundaries, and
a corporate security investigation that examined suspicious activity from email traffic.
The report then concluded with a trial begun by Kent police on a predictive policing model, which aim to use historic crime data and human behavior to predict where offences are likely to take place.
Gavin Esler, BBC Newsnight, stated:
"Big data .. is going to change everything. The trillions of bits of individual data that we create as we go about our daily lives are being stored, and increasingly examined. Governments, companies, medical researchers, now the police, say this potential goldmine of information can help them do their job better. The police and intelligence services are turning to big data to find patterns, clues, that can help solve crimes."