This page is from our blog archive
It's still useful, but it's worth searching for up-to-date information in one of our more recent blog posts.
Cambridge Intelligence, the leading provider of network visualization and analysis solutions, has been included in The Sunday Times Tech Track Ones to Watch shortlist for 2018.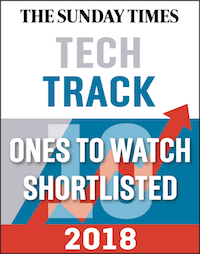 Compiled by Fast Track, the acclaimed Tech Track awards identify the top-performing private technology companies, from the fastest-growing to the biggest. The Ones to Watch shortlist showcases UK companies with innovative technologies and strong forecasts for sales growth.
The Fast Track research team visited Cambridge Intelligence to learn more about how they've achieved success without external investment. With sales growth of 42% per annum over the last three years to £5.1m in 2018, over 180 organizations worldwide rely on Cambridge Intelligence's market-leading KeyLines technology.
The Fast Track team said, "the caliber of companies was extremely high this year". As a result, Cambridge Intelligence narrowly missed out on a place in the final top 10 Ones to Watch published in The Sunday Times, Britain's largest-selling quality national newspaper, on September 9th.
Founder and CEO of Cambridge Intelligence, Joe Parry, said:
Making the Ones to Watch shortlist is a great achievement. Our financial performance reflects our commitment to providing customers with the tools they need to succeed. We have ambitious plans for continued growth and innovation, so to be recognized in this way is a real boost. The Fast Track team are going to keep monitoring our business, and we'll work hard to merit a place in their future league tables.