Insurance fraud detection is a complex and data-intensive process. In this case study, we'll look at one insurance company that uses our link analysis toolkit, KeyLines, to perform powerful insurance fraud visualization.
Our customer, a leading insurer
In 2013, we worked with the Canadian branch of a global insurance organization. With over three million customers, they're one of the largest insurers in Canada, and invest heavily in fraud detection and investigation activity.
While they've always taken a proactive approach to detect and stop insurance fraud, they had identified an opportunity to make their process more effective and efficient with more powerful link analysis tools.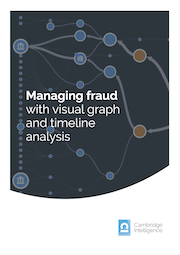 The challenges of insurance fraud detection
Our customer, like many in the insurance industry, uses the SAS suite of tools for insurance fraud detection, prevention, and management.
Part of this suite is a Social Network Analysis (SNA) module, which ingests data (at an account, customer, claim and policy level) and presents it as a link analysis chart, using links and nodes. Users analyze this chart to identify and understand patterns, anomalies and unusual connections.
Although this SNA module provided valuable insight into the dense connections contained in insurance fraud data, it had some limitations:
Inflexibility – the SNA module user interface had limited customization options. This made it harder to control how users explored the data and limited their capacity to find patterns and, ultimately, discover fraud.
Inaccessibility – Data could be called, scored and presented SAS, but users found it difficult to perform further 'what if?' analysis once the data was inside the SNA system. For example, to expand, move or exclude certain nodes they would need to formulate new database queries. This limited the platform's usefulness, making fraud analysts and investigators reliant on specifically-trained data scientists and statisticians.
Limited filtering – our customer needed to apply various filters to their charts to help with the discovery of patterns and frauds. This was not possible in the SAS SNA module.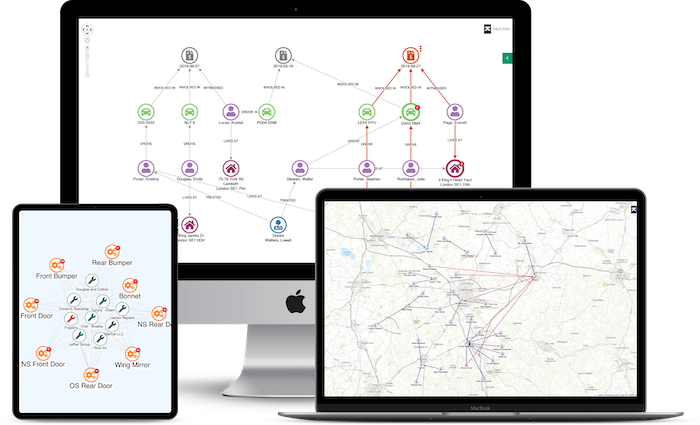 Building an insurance fraud visualization tool
Our customer approached us to investigate using KeyLines to extend the insurance fraud visualization capability of the SAS platform with advanced interactive link analysis. A key criterion was for the link analysis component to be entirely web-based, to integrate with the customer's wider toolset and workflow.
Other criteria included:
Interactivity – for data exploration and investigation, and to help answer the vital 'what-if' questions.
Easy querying – users needed to be able to easily submit new data queries by interacting with the nodes and links on their screen, rather than by formulating complex database queries.
Flexibility and customization – complete control over the look-and-feel and user experience was essential.
Unbreakable and secure – most importantly, the solution needed to maintain absolute data security and be entirely robust.
Led by their research and development department, assisted by support from the KeyLines team, our customer built a powerful link analysis application that integrated seamlessly with their wider SAS infrastructure in under two months.
A complete insurance fraud detection platform
The application uses the existing SAS data warehouses and entity profiling (intelligent risk scoring and flagging) to create an interactive KeyLines link analysis chart. This KeyLines chart is securely made available to end-users via a web browser.
Using KeyLines' flexible event model to define the user experience, a completely customized interface and experience was built. This level of granular development control ensured the whole application was intuitive and easy to use, without the need for specific user training.
KeyLines also simplified the data querying and exploration process. Instead of manually formulating and submitting a new SAS query each time, users can now use KeyLines as a visual query engine – calling new data to the chart on-demand with a click.
Additional functionality previously unavailable in SAS' own insurance fraud visualizations was also made available to staff. These include filters, social network analysis measures, node manipulation, and automatic layouts.
Learn more about insurance fraud visualization
If you would like to know more about how KeyLines could help your fraud systems, or if you'd like to start a free trial of KeyLines, get in touch with us.