Last week, we welcomed fellow specialists in the field of graph visualization to discuss the future of connected data visualization at the Connected Data Visualization Consortium (CDVC) meeting in San Francisco.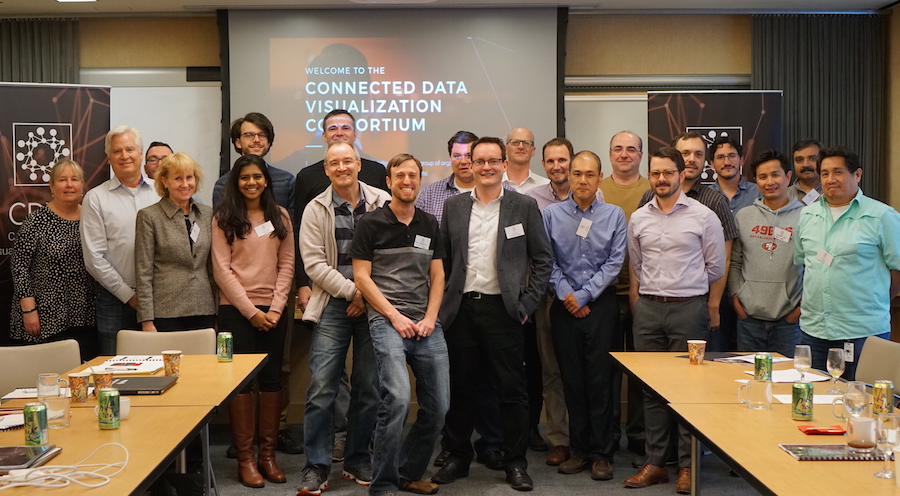 CDVC was launched last year to drive innovation and share knowledge among graph visualization practitioners. It's a group of industry-leading organizations that use visualization tools to find unusual behaviours in complex connected data.
We saw another great turnout with attendees from start-ups to multinational organizations, sharing use cases as varied as drug discovery, IT network management and stopping human trafficking. Some of the participating organizations included Western Union, Johnson & Johnson, FICO and Mulesoft.
All attendees were encouraged to speak openly about their own deployments, and share ideas and strategies across their different industries. Despite their different scenarios, it was clear that members faced a common set of challenges and goals – and each their own ingenious solutions.
Alongside the member presentations, our own team provided technical sessions on time visualizations, KeyLines geospatial and tips and techniques to build a powerful KeyLines application.
It was great to see so many graph visualization experts in one place. As the CDVC community grows, it'll become a hub for inspiration, support and advice, giving members insights into best practice, and helping us to define and build the next generation of connected data visualization tools.
Our next meeting will be in Europe later in 2018. To register your interest, visit the Connected Data website.