As a fraud analyst, it's your job to scrutinize overwhelming amounts of data, identify the people involved in fraudulent activities, and pinpoint criminal trends to prevent them from occurring in the future. Ultimately, you need to see the story behind the data.
Although conventional rule-based anti-fraud systems can be beneficial, they only work for known fraud – fraudulent activity you've encountered before. Sometimes you need to review cases that a rule-based tool can't classify – unknown fraud. You work in a fast-paced environment, often only having seconds to make a decision. You need accurate insight, fast.
This is where a network visualization (or link analysis) toolkit fits in like KeyLines and ReGraph- a powerful visualization tool helping you uncover fraud that would otherwise go unnoticed. By visualizing the fraud data as a graph you can turn it into insight and identify fraudulent activity faster.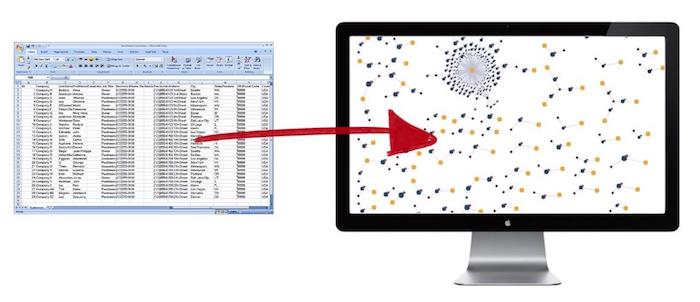 In this blog post we're going to demonstrate why network visualization should be part of your credit card fraud detection workflow. We'll show how integrating our network visualization toolkits can help you make sense of large and complex fraud datasets and turn them into valuable insight.
Why use network visualization?
You need to review cases quickly and make fast decisions with confidence. Network visualization, powered by KeyLines, is the perfect solution, offering an intuitive, visual way to understand data connections, and interactivity that makes it simple for you to get insight quickly. Over 200 organizations have used KeyLines to build powerful custom network visualization applications.
Network visualization is so effective because it's:
Intuitive – presenting a graph as a node-link structure instantly makes sense, even to people who've never worked with graphs before.
Fast – our brain is unrivaled for pattern finding, but only when data is presented in a tangible format. Armed with visualization, we can spot trends and outliers very effectively.
Flexible – the world is densely connected, so as long as there's an interesting relationship in your data somewhere, you'll find value in a graph visualization.
Insightful – exploring graph data interactively allows users to gain deeper knowledge, understand context and ask more questions, compared to static visualization or just looking at raw data.
Let's look at an example.
Tackling credit card fraud with network visualization
The key to detecting fraud lies in relationships between people, accounts, transactions and events. Presenting these relationships as networks helps you interpret huge volumes of data much faster.
We've used a simplified, fictitious dataset (adapted from this Neo4j graph gist) to show a useful visual and data model for investigating credit card fraud.
This scenario features credit card transactions, some of which have been marked as disputed. As an analyst, it's your job to look through this dataset, understand what's happened and make assessments about what your organization needs to do.
Nodes represent people (person icon) and merchants (cart icon), and the glyphs on merchant nodes show transaction values. The undisputed transactions are represented by green links and disputed transactions by red ones:

A core strength of our network visualization toolkits is their flexibility. Each deployment is unique, allowing the developer to customize any aspect of their application. It's a powerful way to provide domain-specific context to your chart and a familiar UX for your users.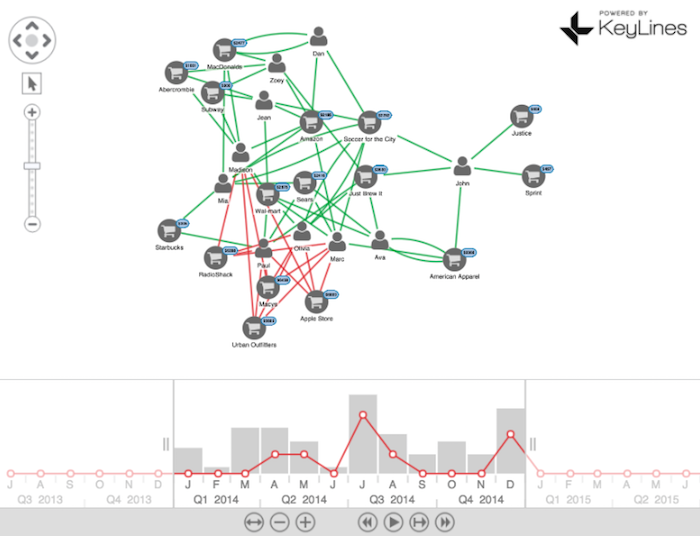 Filter out the noise with advanced analysis feautures
Fraud data is often extensive, intricate and noisy. KeyLines has various features to help you overcome these challenges. The filtering functionality allows items in a chart to be hidden, 'ghosted', or shown depending on your selection. In the chart below we've used filters to highlight people with disputes, giving the user an instant view of the transactions they need to investigate.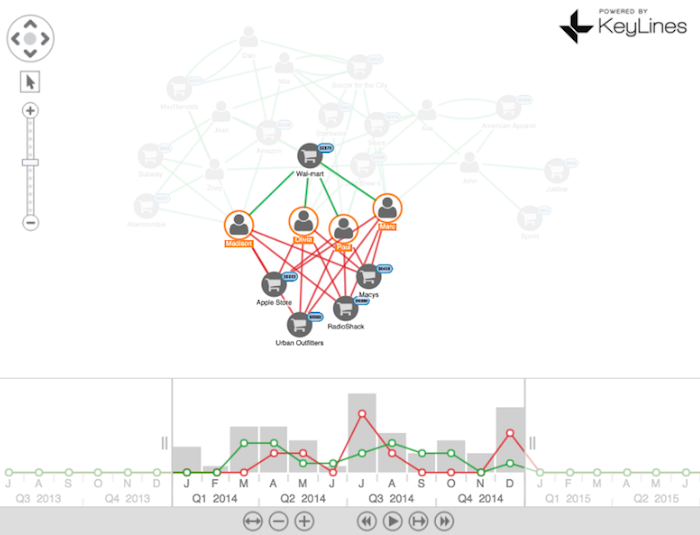 Time is a crucial element in credit card fraud analysis, so at the bottom of the chart there's a time bar revealing our data's temporal trends. This allows you to filter large datasets to understand exactly what occurred during a certain period, or play back activity over time. The histogram represents the total volume of transactions in the network and the red trend line shows the number of disputed transactions.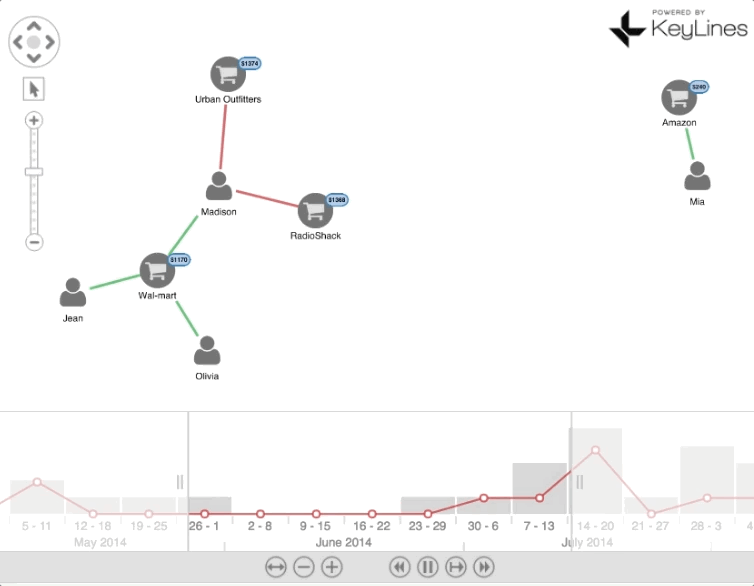 In this example, we've only highlighted two features of our network visualization technology but the toolkits offer many ways to unlock your data and see context on demand, including social network analysis, layouts, combos and geospatial visualization.
Network visualization – the missing element in your analysis process
Visualizing this data in an interactive and dynamic way helped us see patterns and recognize connections. We may not have been able to do this with alternative methods of investigation.
Ready to combat credit card fraud?
Credit card fraud is a complex problem but network visualization makes it easier to recognize signs of fraud. Ready to combat credit card fraud? Request a free trial here.