Earlier this year we joined forces with the students of Cambridge Academy for Science and Technology (CAST) and Etrust to help inspire the next generation of software developers.
Based on the 'Dragon's Den' concept, we gave 20 students from year 13 access to our data visualization toolkit, KeyLines, and a brief: to design a tool to help businesses achieve a 360-degree view of their customers. Using this dataset of Amazon reviews by Julian McAuley, they worked in teams of 3-5 to build a graph visualization application that would be useful for a business selling their products on the platform and wanting to understand their customers better.
The project gave the students an opportunity to learn more about JavaScript – the language with which KeyLines is built – with support from a team of Cambridge Intelligence volunteers, including engineering, commercial and operational staff.
During the project, the mentors helped students develop technical and coding skills, an understanding of the fundamentals of data visualization and visual data analysis, as well as the ability to work in teams and present a business case.
Clara Donald, Development Manager at Cambridge Intelligence, who helped initiate the project said:
We're always keen to inspire the next generation of innovators and trail-blazers to seek a career in STEM. Getting involved in a project like this is the perfect way for us to give back to the community, helping young people to learn the skills they'll need for a career in the fast-growing software industry.
At the end of the project, our hope that the students would learn a lot was realized. They developed some inspiring applications including tools to help businesses identify customer trends and understand buyer journeys.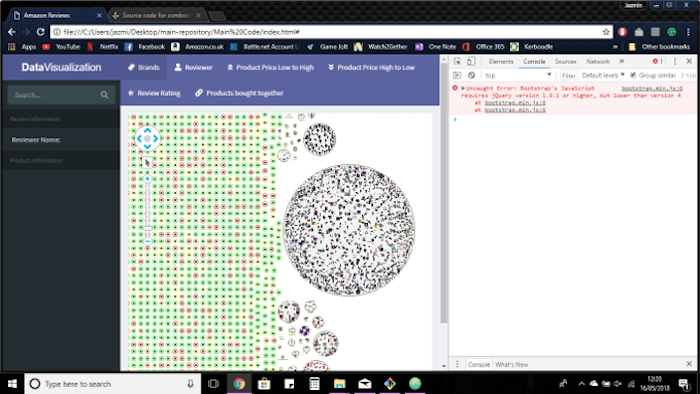 Barry Cooper, Computer Science Lead at CAST said:
It was encouraging to see the students enjoy learning JavaScript and understanding the KeyLines API – they were engaged with the project from start to finish. They particularly enjoyed the visual element of KeyLines and developing the sales material which they found thoroughly engaging.
We'd like to thank the staff and students at CAST for the opportunity to work with them, and for being so enthusiastic about the project.
The power of collaboration
By coming together, CAST, Etrust and Cambridge Intelligence have helped inspire young minds who'll hopefully seek a career in STEM in the future.
CAST is a University Technical College offering specialist science to a generation ready to become part of the global network of biomedical and environmental science and technology professionals.
Etrust is a charity that recruits volunteers from different companies to act as mentors to students for various projects.
Cambridge Intelligence is the leading provider of network visualization and analysis solutions. Its KeyLines toolkit is a lightweight, flexible network visualization and analysis technology which works across multiple platforms and devices.
References
R. He, J. McAuley. Modeling the visual evolution of fashion trends with one-class collaborative filtering. WWW, 2016
J. McAuley, C. Targett, J. Shi, A. van den Hengel. Image-based recommendations on styles and substitutes. SIGIR, 2015