We're excited to welcome the fast, reliable, fully-managed graph database service Amazon Neptune from Amazon Web Services (AWS) to the Cambridge Intelligence Technology Alliance – the group of organizations that helps us solve our customers' connected data challenges.

AWS is a rapidly growing business and its products power the infrastructure and systems behind more than a million organizations worldwide. The release of Amazon Neptune – a fully managed graph database service – has made a fully managed, purpose-built graph database available to AWS customers.
Since 2011, Cambridge Intelligence has been building award-winning graph visualization products to make the world safer. We've collaborated with Amazon Neptune customers on projects covering fraud, cyber security and supply chain management to help organizations reveal insight in their connected data.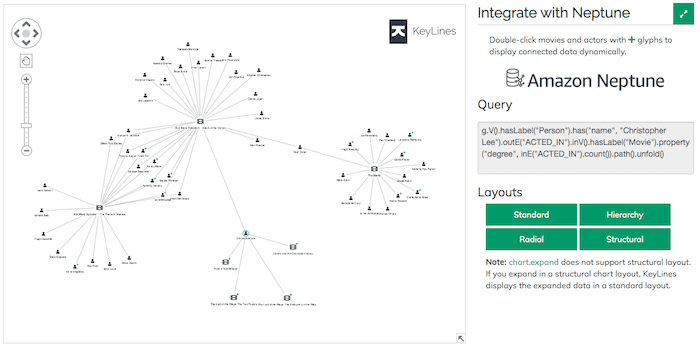 Kaush Kotak, Director of Customer Success at Cambridge Intelligence, explained why our technologies have proved to be such a successful combination:
Amazon Neptune provides the flexibility and scalability of a graph database with the performance and familiarity of AWS. Combined with our toolkits, it forms the ideal stack for exploring, visualizing and understanding graph data at scale. As organizations collect data at ever-larger volumes, these are the tools they need to discover insight and make sense of complexity.
About the Technology Alliance
Our Technology Alliance is formed of industry-leading organizations whose products and services complement our own offering. Existing members include CosmosDB and Neo4j. They share our mission to help people understand complex connected data and offer high-quality tools that can be seamlessly integrated with our own.
Watch the joint Amazon-Cambridge Intelligence webinar, fighting fraud with Amazon Neptune.
About Amazon Neptune
Amazon Neptune is a fast, reliable, fully-managed graph database service that makes it easy to build and run applications that work with highly connected datasets. The core of Amazon Neptune is a purpose-built, high-performance graph database engine optimized for storing billions of relationships and querying the graph with milliseconds latency.
Amazon Neptune supports popular graph models Property Graph and W3C's RDF, and their respective query languages openCypher, Apache TinkerPop Gremlin and SPARQL, allowing customers to easily build queries that efficiently navigate highly connected datasets. Neptune powers graph use cases such as recommendation engines, fraud detection, knowledge graphs, drug discovery, and network security.