Highlights
Cambridge Intelligence's KeyLines graph visualization toolkit adds advanced visualization capability to the UK's Fraud Prevention Service
Following successful development and an integration project with CGI, the Application is rolled out to 300 Members, including major banking, insurance and finance organizations
KeyLines replaces i2's Analyst's Notebook data analysis tool
Frauds detected within one week of KeyLines going live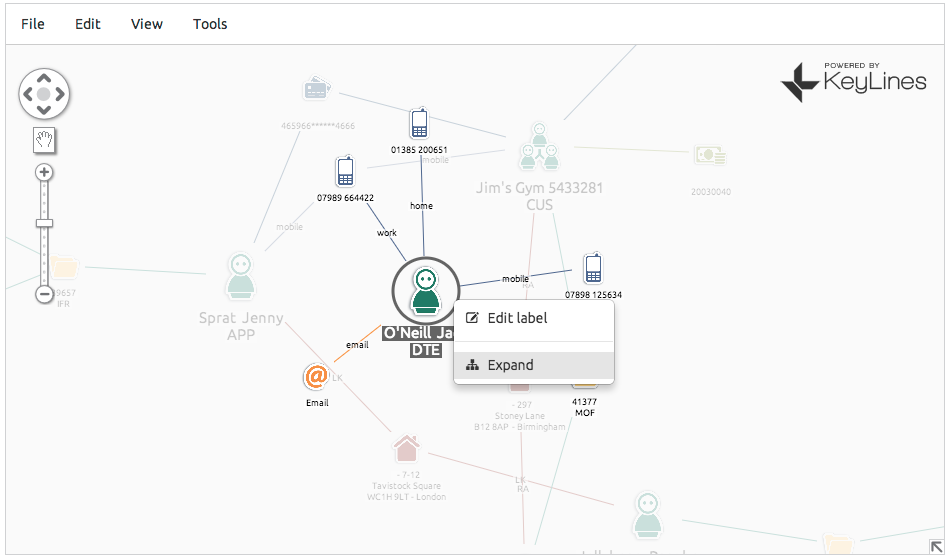 About Cifas
Cifas is the UK's Fraud Prevention Service.
In partnership with its 300 Members, Cifas coordinates a unique anti- fraud data-sharing scheme, known as the National Fraud Database. The database is used to collate intelligence on 250,000 fraud cases each year from across the private and public sectors.
Details of known fraud, and known victims of fraud, are submitted to the National Fraud Database by Cifas Members. Other Members can then use this data to flag applications or transactions that require extra precautions.
CGI, the multinational IT Consultancy formerly known as Logica, work in partnership with Cifas to manage their systems integration and database management activity.
The problem
As the database had grown, Cifas sought to enhance its data reporting methods.
As Data Sharing Services Manager, Simon Fitzgerald, states:
"We knew we wanted to offer a more contextual view to the fraud data we hold. The most effective way of doing this was by incorporating a second level of data linkage – not just showing the direct 'hits', but also the connections from those hits to other entities.
"We had already looked at the database requirements and were convinced it was possible, we just needed to find a way of communicating all that data in a single easy to digest report. As soon as I saw KeyLines, I knew it was the solution we needed."
In mid-2012, Cifas' Data Services Team approached Cambridge Intelligence to build an Application that could enhance the National Fraud Database with visualization capability.
The Requirements
Cifas sought to enhance reporting with a visualization Application that could offer a more contextual view of fraud detection. The solution needed to be:
Visual and interactive
Highly secure
Web based
Compatible with all browsers
Intuitive and easy to use with minimal training
Consistent with reporting systems and processes
As part of the same project, Cifas was also seeking a replacement for i2's Analyst's Notebook, which was the visualization tool used by their internal analysts for law enforcement operations and fraud ring investigations.
The Solution
Using the KeyLines Software Development Kit (SDK), Cambridge Intelligence were to develop a web browser- based visualization Application.
KeyLines' unrivalled browser compatibility, ease of use, secure architecture and chart sharing capabilities were cited as central to its value proposition.
The Project
Led by Cambridge Intelligence Project Manager Kaush Kotak, the project to build the Cifas Application would need to be completed within two months. After this point, CGI would work with Cifas to manage data integration.
Of the project, Kaush says:
"We knew from the outset that effective communication and engagement with Cifas would be essential to build a quality Application within the timescales. We adopted an Agile approach with weekly sprints that included feedback sessions with Cifas' key stakeholders to iron out any issues as they surfaced."
Ensuring high levels of usability and data clarity were critical success factors. An infrastructure was created whereby Cifas staff could access beta versions of the Application remotely, allowing rigorous user testing and feedback to take place without anyone needing to travel or set up complex testing infrastructure.
Simon Fitzgerald adds:
"The interactive approach to developing the Application worked really well. By working so closely together, we were able to make sure visions didn't diverge and everyone knew what was happening. Cambridge Intelligence kept the project moving in the right direction at the right speed."
The Application was successfully handed to CGI on time.
The Result
Within a week of its launch, Cifas Members reported discovery of their first frauds using the new system.
By integrating KeyLines visualization capability with the National Fraud Database, Cifas have given their Members an enhanced contextual view of fraudulent activity.
With no specialist training, data analysts and fraud investigators can now use the visualizations to understand a fuller picture, allowing them to start the investigative process empowered with a holistic understanding of the frauds and the organized networks that lay behind them.
Simon Fitzgerald concludes:
"KeyLines has really represented a step-change in how Cifas communicates and uses data. Within a week of going live, new frauds were detected with the system. By introducing this kind of leading-edge software, we have not only fixed a problem for today, but also ensured that we are able to meet the needs of our Members in the future."