We take benefits seriously at Cambridge Intelligence. Competitive salaries, pensions, life insurance, private healthcare, dental plans – they keep our team happy and healthy.
The smaller things matter too. Whether it's taking a week out for a JavaScript conference in Paris, or buying extra holiday because you forgot about Christmas (again), we've thought of many ways to make Cambridge Intelligence a great place to work.
We're especially proud of our latest perk. It's a cycle to work scheme with a difference: everyone gets a brand new bike. FREE!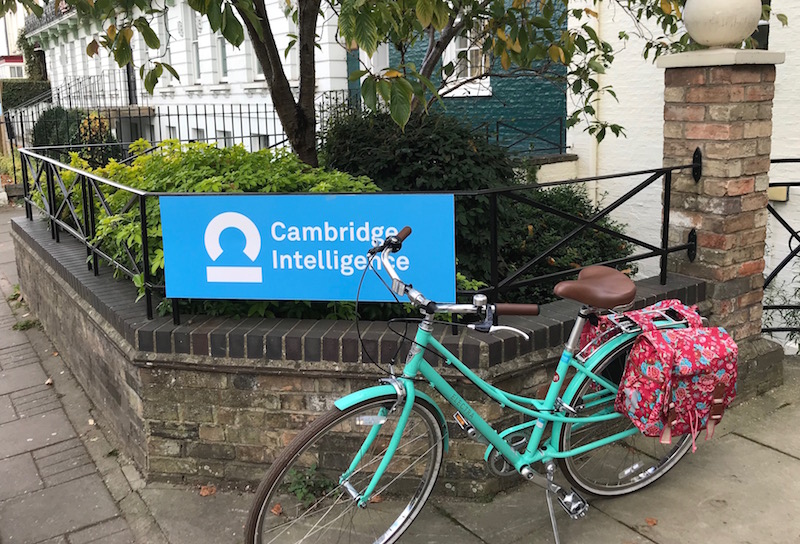 We've been working on a cycle to work scheme for some time, but didn't want to burden staff with the tax complications and paperwork of salary sacrifice programs.
Instead, Cambridge Intelligence buys the bikes and loans them to staff for free. As long as commuting is their primary use, we can offer bikes as a tax-free benefit.
Working with local firm Rutland Cycles, Cambridge Intelligence employees can to get a new bike (and any required safety equipment) to the value of £700.
We hope it'll encourage the team to stay healthy, and help reduce the number of cars on Cambridge's congested streets. It's been popular so far, and the first bikes arrived last week.
Fancy a free bike? We're recruiting now – have a look at our latest job vacancies.