Every year we welcome a group of students and recent graduates to our three-month summer internship at Cambridge Intelligence. Below, French student Augustin Lacour shares his experience.
About me
I love learning and discovering new places. When I found out that international work experience is a requirement for my engineering diploma, I was excited to begin the hunt for the perfect internship abroad. I came across the Cambridge Intelligence program and thought it would be a good fit for an aspiring software engineer. Data visualization is a growing market and I find graph theory very interesting so I decided to apply and fortunately I got accepted. Moving to a new city and the opportunity to learn more about a new culture was the cherry on top!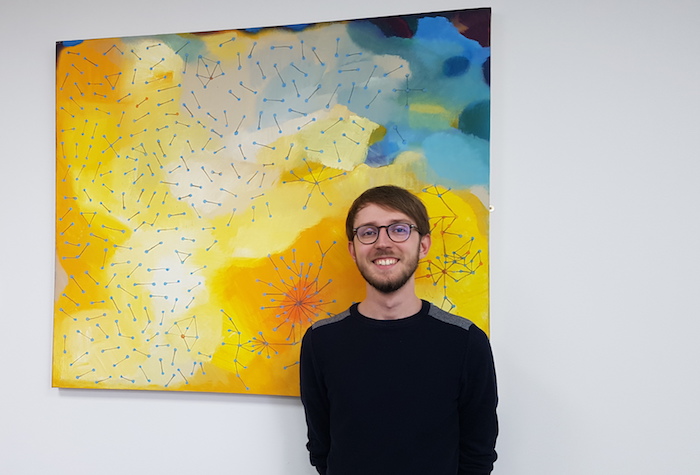 What's the work environment like?
I'm part of the development team – the people who make KeyLines. Using the Agile Method, we continually find ways to make the software better. Unlike some internships, you're part of the team from day one, having other interns on the program also helps.
The internship program at Cambridge Intelligence isn't an afterthought. We're viewed as valuable members of the team and the work we do gets implemented into KeyLines.
Besides working with and on the latest technology, it's incredibly beneficial working with experienced developers. Everyone here is super helpful and provides useful feedback which is great for someone like me who's eager to learn.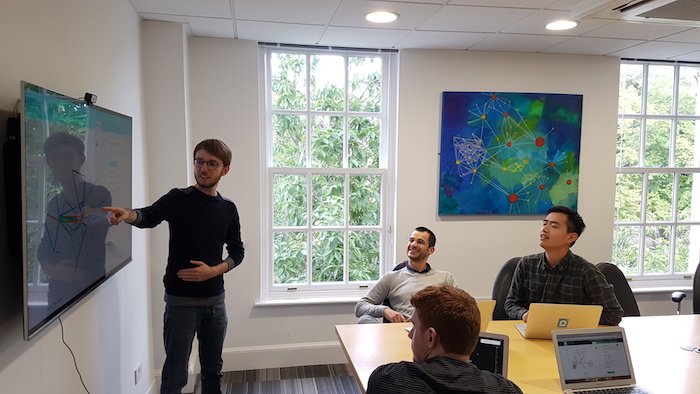 What kind of work do you do?
Together with Oscar, a fellow intern, I've been working on the automation of performance testing. To do this, we've mostly been using Node.js, React and Karma test runner – some of these I was already familiar with and some I've learned on the job. It's been really special working on a project that Oscar and I own. It's encouraging knowing that the team trusts us and our abilities. Building the automation testing from scratch and seeing it progress every week is great. You can look back and say, "I did that!"
Every Friday we get to work on our own projects and present them to the rest of the team. This is a great way to keep the creativity flowing and some of the ideas we present get added to the product feature scope. While familiarizing myself with KeyLines, I made a demo to help people working in London figure out where they should stay. The demo takes into account where people work, the length of their commute using the London Underground and their rental budget. This was a fun way to understand KeyLines better and the features it offers. For this demo I found map mode or geospatial and filtering really effective.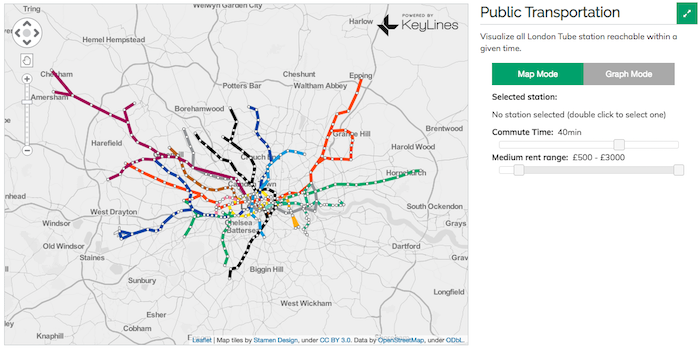 What are the people like?
Although I'm far away from France, the people at Cambridge Intelligence have made me feel at home. From the welcome lunch they held for the interns when we first joined, to the monthly socials and birthday celebrations, the company makes a real effort to balance work and play. One thing I found really helpful was the buddy system. Every intern gets paired with a more experienced developer when they join to show them the ropes. Special shoutout to Joe Clark for being a legendary buddy!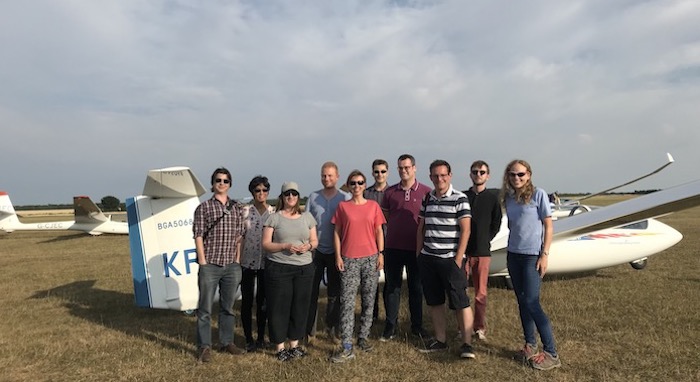 Would you do it again?
Besides gaining vast technical experience, I've had the opportunity to do some pretty cool stuff here like controlling a glider! It was one of the company socials and the most exhilarating thing I've done in a while. It's great that I'm able to gain work experience and make lasting memories as well.
So, if you're thinking of applying, do it! You'll learn a great deal, meet some awesome, smart people, and do fun things. Oh, and it doesn't hurt that the internship is paid.