The Customer 360 data visualization challenge
Successful businesses understand their customers.
Accurate customer insight leads to decreased churn, increased customer value, better planning and increased profits.
What is Customer 360?
Customer 360 is about collecting, collating and aggregating customer data into a single view, revealing valuable business insight.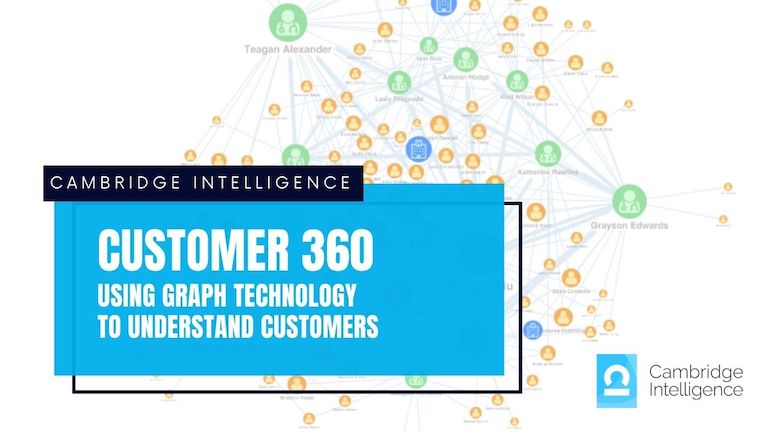 Who needs customer 360 insight?

Healthcare
Healthcare firms want to manage medical referrals, understand patient histories and investigate issues and complaints.

Insurance and banking
Insurance companies want to investigate fraud, manage regulatory compliance and uncover up-selling opportunities.

Retail
Retailers want to reduce customer churn, maximize customer lifetime value and understand the effectiveness of specific marketing campaigns.
Customer 360 visualization for customer-facing agents
Whether it's to identify the best next action, understand historical context or find an up-sell opportunity, employees on the frontline need fast and clear customer insight.
There's a bewildering volume of data available to them, and speed is critical. Presenting information as intuitive visualizations built into existing customer relationship management (CRM) tools, agents can join the dots and make the right decisions, quickly.
Let's look at some examples.
Advanced graph visualization makes complex customer data easy to understand. With powerful filtering, agents can drill down to reveal just the information they need to know to make the right decision.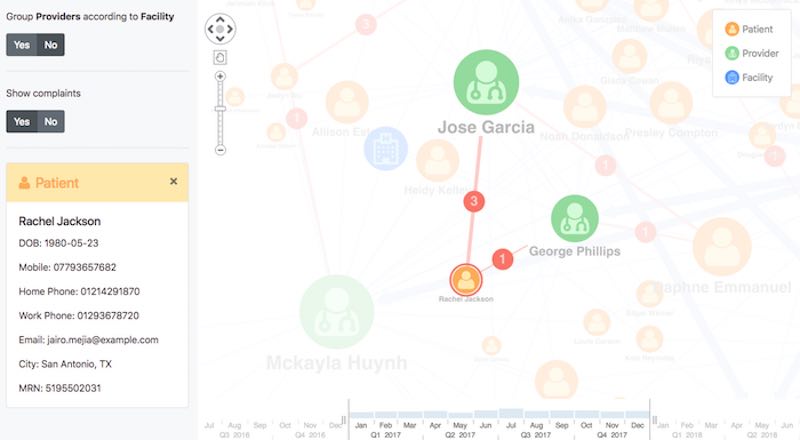 Armed with timeline visualizations, customer-facing agents can get an at-a-glance overview of a customer journey and understand sequences of interactions as they happened.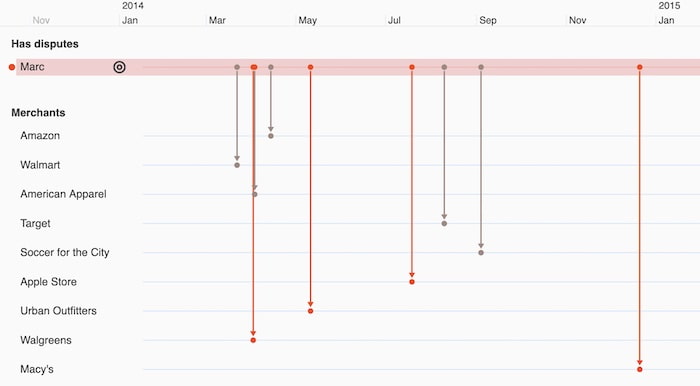 Strategic planning with Customer 360
Where customer-facing agents use insight to manage specific interactions, business leaders turn to Customer 360 views to uncover, understand and predict business trends.
This audience needs a view of many different customers simultaneously. When they understand aggregated data they can see correlations in behavior, make predictions to reduce risks, and uncover opportunities to exploit.
Using a 'global' view of customer data, it's possible to identify and predict patterns of behavior that could inform strategic decisions. Visualization techniques, like node combining, make larger datasets easier to navigate.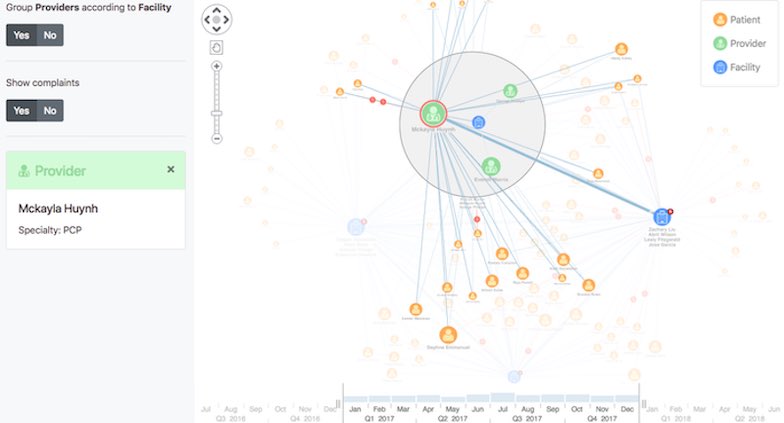 Custom-built Customer 360 visualization tools
At Cambridge Intelligence, we've helped organizations including Barclays, CGI, and First Republic Bank to build powerful Customer 360 visualization tools.
Using our graph visualization and timeline visualization technologies, it's quick and simple to design interactive visualizations that look great and integrate seamlessly with your existing tools and workflows.
Want to learn more? Read our blog post on how to achieve Customer 360 with graph visualization

Overcome data silos
Bring together data from across the organization in a single chart. Our flexible approach means you see the full customer 360 view and gain insight from all your data sources.

Get answers faster
Discover new dimensions to your data that aggregated methods can't show. Timeline and graph visualization techniques lead to richer customer insight, and better, faster decisions.

Innovative network views
We work year-round to design new functionality in our toolkits. With our help, your team will have the best visualization tools to keep them one step ahead.

Custom tools that work for you
Visualization tools, custom designed for your business, users and systems, empower anyone in the business to understand rich customer insight.
Want to try it for yourself?
KeyLines
Graph visualization for JavaScript developers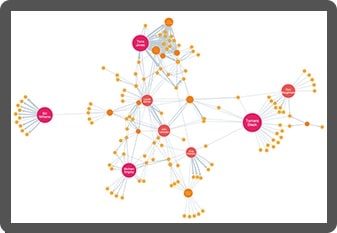 Code how you like and build link analysis apps that work with any stack.
ReGraph
Graph visualization for React developers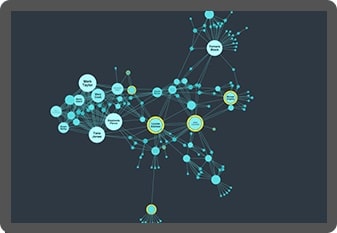 Use a simple data-driven API to build customized graph visualization apps in React.