Data visualization is the quickest and most powerful way to give organizations a deeper understanding of their connected data. Our visualization toolkits have been used in countless critical use cases including fraud detection, law enforcement and security, cyber security, infrastructure management and regulatory compliance. By focusing on the connections, tools built with our SDKs uncover patterns and relationships in even the most complex data sets.
But don't just take my word for it – some of our most successful customers have given us great feedback. I've listed six of my favorite examples below. Read on to find out why these organizations chose to use our visualization technology in products that:
Empower internet users to chart a safe journey for their data
Track "digital shadows" and map connections in a crime investigation
Map and monitor satellite activity
… and much more.
1. Smarter routes through the internet with ReGraph
"ReGraph was the best visualization solution we found to offer our customers the responsive, interactive charts they need to understand complex networks and take their journey into their own hands." – Jonas Simanavicius, Co-Founder and Chief Technology Officer at Syntropy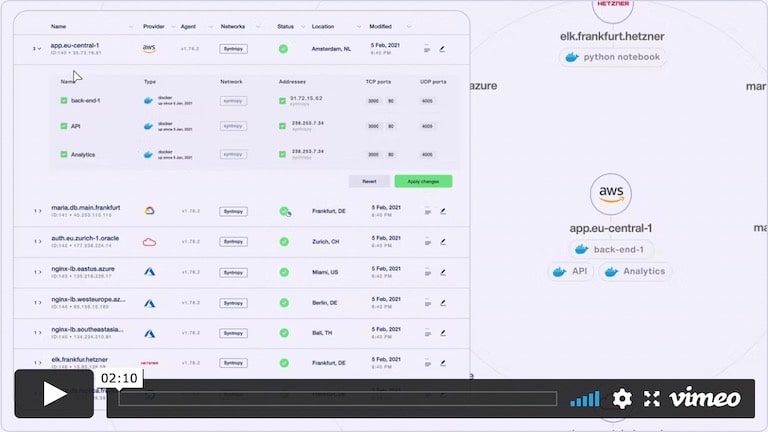 From analysts scouting for network problems to developers launching a new application, all of Syntropy's customers are looking for the same thing: safe passage for their data, along routes that are easy to access, reliable and fully risk assessed. To achieve this, Syntropy built a whole new layer to the current internet framework, enabling journeys across the internet that guarantee speed, efficiency and sustainability.
Syntropy's global data routing network rescues users when they're stuck in traffic jams or isolated by broken connections, revealing exclusive alternative routes that will get them safely to their destination. It's a user-centric system, so customers depend on them to provide an accessible and up-to-date map of the networks they need to navigate.
That's where graph visualization comes in. It's a uniquely intuitive way to understand network connections. When you're charting a section of the ever-evolving internet, you need software that's strong, smart and reliable. We were delighted when Syntropy chose ReGraph, our graph visualization toolkit for React users, to bring their internet superstructure to life.
2. Enterprise AI, powered by graph and timeline visualization
"With interactive visual tools, [our users] can pull the thread of complex problems, unraveling insight as they go to answer more detailed business questions." – Fabien Vives, C3 AI's Principal Product Manager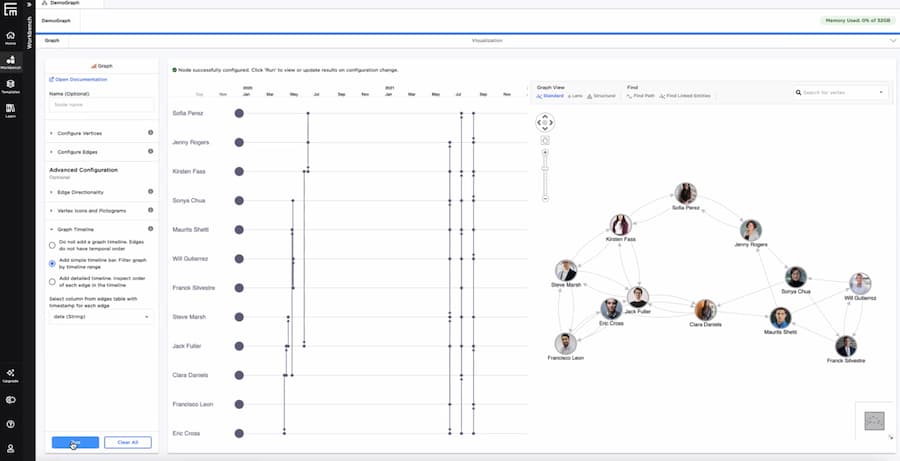 The data involved in enterprise AI is massive, messy and many-layered – and it often depends on a complicated structure of technologies from several different vendors. C3 AI's model-driven architecture simplifies the landscape, providing a single unified platform to encourage users to dive straight into advanced data exploration.
The secret to their success was their early investment in graph and timeline visualization technologies, powered by our ReGraph and KronoGraph toolkits. Interactive visual tools enable users to bring connected data analysis seamlessly into their AI workflows, examining their connected data and turning it into business insight.
In the screenshot above you can see Ex-Machina, one of their most successful products. Not every organization has an expert team of data scientists, but that's not a problem with Ex-Machina: interactive and intuitive graph and data visualization on a no-code/low code platform make AI-driven analysis accessible to anyone.
3. KeyLines: bringing clarity to modern app development
"KeyLines' visualizations are intuitive, with a level of interactivity that puts the user in charge – so they can scale in and out, and quickly hone into areas of concern. KeyLines' advanced analysis functionality means they can surface the right information at the right time – so they can respond quickly, without wasting time chasing red herrings." – Aloke Guha, CTO of OpsCruise
KeyLines was the perfect fit for OpsCruise, a modern applications observability platform that offers its customers "clarity amid the chaos". As you might expect from a Gartner Cool Vendor, they back up this offer with a solid user experience, guaranteeing actionable insights into complex cloud-based applications. Purpose-built for Kubernetes, OpsCruise uses our advanced data visualization technology to enable a 360 degree view of services.
When an application starts to fail, DevOps engineers need to find the root cause, fast. That's no easy task with modern cloud-based applications, which have thousands of moving parts. OpsCruise uses KeyLines' functionality to make millions of individual metrics understandable to the user, presenting complex data in a digestible and context-rich format. And interactive visualizations put the user in charge during an alert investigation, revealing "information on demand" that allows them to focus on areas of concern and contain any problems before they spread.
"If something goes wrong, it's like CSI mode. People need an overview of everything that's happening but presented in a way that's clear and insightful, so they can make fast and accurate inferences on what is wrong and actions needed to remedy the problem.

"KeyLines drives this with a single-pane approach that scales in, out and across different levels of complexity as required. It answers the questions 'what's going wrong, and how can I fix it?', so DevOps engineers can more quickly resolve issues and limit the potential fallout."
4. Graph visualization: the detective's secret weapon
"All our work is based on the fundamental belief that while products and software solutions are powerful tools, investigations are driven by Funtipeople, their intelligence, intuition, and experience. KeyLines' power and interactivity mean we can bring our users even closer to their data insight, driving successful investigations." – Pierangelo Satriano, CTO of Sistemi & Automazione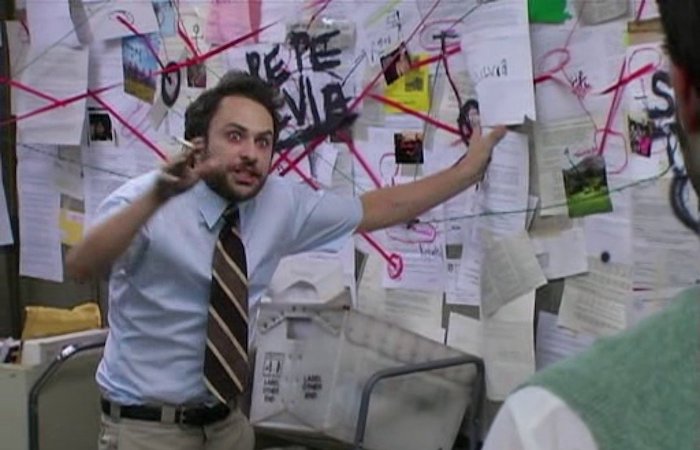 No crime drama is complete without an investigation wall: a chaotic mess of newspaper clippings, photos and drawing pins, all connected with string. In real life, advanced data visualization can bring order to the chaos.
Even if they're working with digital assets and not print-outs, law enforcement investigators face a huge and ongoing data challenge. Sistemi & Automazione's TETRAS, a leading platform for law enforcement COMINT analysis, addresses this challenge by turning raw data into admissible evidence. KeyLines' powerful visual analysis functionality brings that complex data to life in a format that's easy to understand and share in a collaborative forensic investigation.
A couple of years ago, we co-hosted a webinar with Sistemi which identified the five components needed for successful COMINT analysis in law enforcement (Successful COMINT data analysis in 5 steps). Since then, Sistemi have continued to explore KeyLines' functionality, using our technology to keep TETRAS at the forefront of the European COMINT market.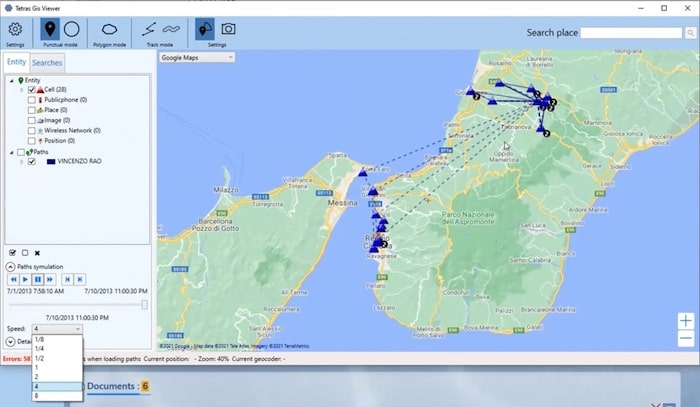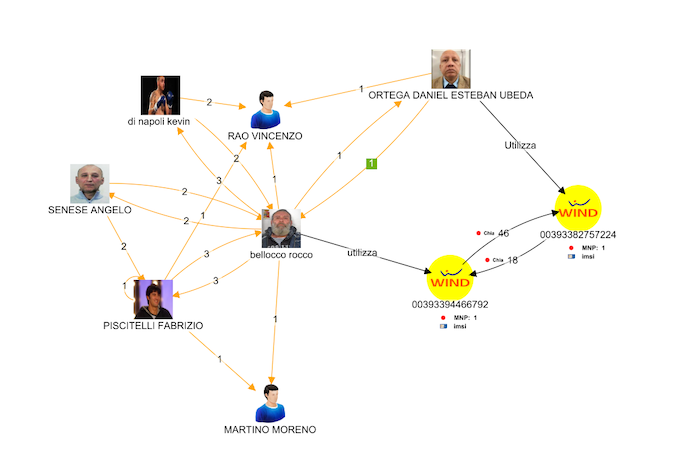 5. Democratizing realtime log data with KeyLines
"KeyLines met almost all of our requirements from the outset. Then when the WebGL support was added in KeyLines 3.0, all the boxes were ticked and it became an easy decision." – Data Visualization Engineer Eliseo Martinez