So, you're a developer who enjoys speaking to customers and delivering solutions?
As a pre-sales engineer at Cambridge Intelligence, you'll get to work with some of the most advanced users and leading companies in the world of data visualization.
Based in in our US commercial team, you'll work closely with our sales people to produce prototypes and proof-of-concept (PoC) applications with our award-winning data visualization SDKs.
Maybe you're working in a pure software development role currently, and really enjoy customer interaction but still want to develop your technical skills? If so this could be the perfect opportunity. You'll get to use your technical background, while also developing your customer communications and solutions skills.
What's involved?
You'll develop self-contained, short-lifecycle, high-impact projects that are key to our customers' decision making processes. This will involve helping them to integrate data, and developing real-world solutions to demonstrate the feasibility of their applications.
To do well in this role, you should be able to understand complex technology and quickly grasp the requirements of complicated projects. You'll need to be comfortable presenting to difference audiences, making complex ideas and concepts easy to understand.
You should love the challenges that come with delivering a new solution for our customers, and get a buzz out of doing it successfully.
Our main programming language is JavaScript so, ideally, you'll have some experience of this.
You might also have experience of:
Data visualization or analysis
Website design and development
Front end development frameworks like React
Who you'll work with
We have four development teams, each made up of JavaScript developers, working alongside technical writers, test engineers and a development manager. You'll work closely with our sales and customer success teams also.
Opportunities to grow
Everyone here gets funded professional development time, with up to five days allocated to learning new skills – whether that's at conferences, training programs or other sales-related courses.
Be yourself
We want to build a fair, respectful and welcoming company, where everyone feels at home. That means taking a long-term approach to equality, diversity and inclusion – not treating it as a tickbox exercise.
With the help of our EDI group, we're working to make every aspect of the business – including recruitment – fair, respectful and inclusive.
Download the job description [PDF]
Life at Cambridge Intelligence
Our data visualization tools are part of something big. They help catch criminals, stop cyber-attacks and unmask fraudsters. The work we do matters.
Our people are part of something big too – all great individually, but even better together. From developers to marketers, salespeople to accountants, we're a smart and inquiring bunch who love finding neat solutions to gnarly problems.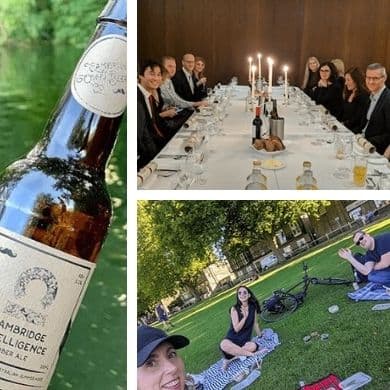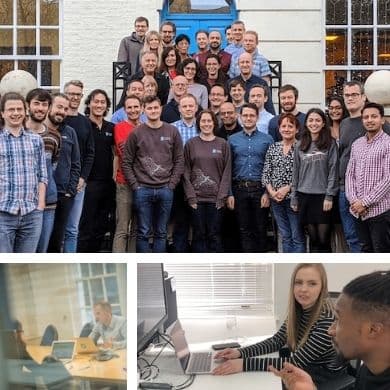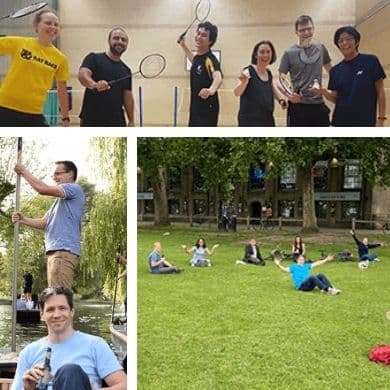 What happens next?
When you apply, if we agree that you seem a good fit, we'll be in touch as soon as possible to get the ball rolling.
Our recruitment process varies by role, but we usually follow four steps to get to know you better.
1. Phone interview

Duration: 30 minutes
With: our talent manager
To check: you're right for the role
Preparation needed: review your your CV, re-read this job advert, and have a look around our website more generally.

This is an informal conversation to make sure we're not wasting your time.

We'll check if you have the right experience for the role and give you a chance to talk up your skills and achievements.

2. Online meeting

Duration: 30 minutes
With: someone from our commercial team
To check: you've got the right technical/commercial skills combo
Preparation needed: take a look at our websites, including our case studies and product information.

This is a chance to share your web development experience, and for us to discuss how it could relevant to this role.

We'll also dig into why you're interested in joining us, and why you'd be a good fit.

If you'd like, you're welcome to share some source code with us during the session too – either from previous roles or from your own personal projects. We're always happy to see elegant code!

3. Panel interview

Duration: about 60-90 minutes
With: yourself, in your own time
To check: your experience, knowledge and skills, and how you approach a challenge

This is your time to shine!

We'll ask you to complete a short task with us during the interview. But don't panic. It isn't designed to stress you out or trip you up. We want to see how you approach the kind of challenges you'll be solving if you were to join us.

After the task, we'll ask you some questions and then give you plenty of time to ask your own.

4. Last chat

Duration: 30 minutes
With: Joe Parry, our CEO
To check: your motivations and aspirations
Preparation needed: none

This final step is an informal catch-up with our founder and CEO, Joe. He'll be interested to hear about your motivations for joining us, and what you'll bring to the team.

It's also a great chance to understand our business from a strategic perspective, and to see how your career will progress here.

Don't forget: it's a two way thing

Ask questions, share any concerns and let us know if we're unclear. We don't do trick questions, and won't aim to confuse you.
Don't forget: it's a two way thing
Ask questions, share any concerns and let us know if we're unclear. We don't do trick questions, and won't aim to confuse you.