Are you a graduate with a flair for digital marketing and an appetite for all things tech?
Looking for a varied role in a place where you can learn, grow and make a difference? This is a fantastic opportunity for you to develop your marketing knowledge, experience and network.
What's involved?
As a graduate marketing assistant with Cambridge Intelligence, you'll support our friendly and busy marketing team in spreading the word about our data visualization software. You'll learn a lot here, but we'll learn from you, too. From day one, we'll encourage you to get stuck in, have an opinion and be willing to share it. A simple "what if…?" can have a big impact.
You'll build up experience across the full marketing mix, from campaign planning to content creation and event coordination. We're looking for someone who'd be keen to focus on digital marketing, including website management and social media strategy.
Who's the ideal candidate?
You'll have a proactive, can-do attitude with great attention to detail. You might have some experience of working in a marketing team through a placement or internship, so you can hit the ground running – or you could be just starting out in your marketing career. The most important thing is to show that you're eager to learn and get stuck in.
You might also have experience of:
Website management including HTML & WordPress
Marketing automation tools such as HubSpot
Creating content and managing social media channels
Marketing and customer research
Who you'll work with
Reporting to the Marketing Director and working as part of a small, tight-knit marketing team, you'll also get the chance to collaborate with people from other teams, such as development, customer success and sales.
Opportunities to grow
You'll learn marketing disciplines across the board, but we'll support you to find your niche and think about where you want to specialize in future, with the possibility of applying for a permanent role after contract completion. We're big on professional development: you'll get an extra five days for personal development on top of your 25 days' annual leave.
Be yourself
We want to build a fair, respectful and welcoming company, where everyone feels at home. That means taking a long-term approach to equality, diversity and inclusion – not treating it as a tickbox exercise.
With the help of our EDI group, we're working to make every aspect of the business – including recruitment – fair, respectful and inclusive.
Download the job description [PDF]
Life at Cambridge Intelligence
Our data visualization tools are part of something big. They help catch criminals, stop cyber-attacks and unmask fraudsters. The work we do matters.
Our people are part of something big too – all great individually, but even better together. From developers to marketers, salespeople to accountants, we're a smart and inquiring bunch who love finding neat solutions to gnarly problems.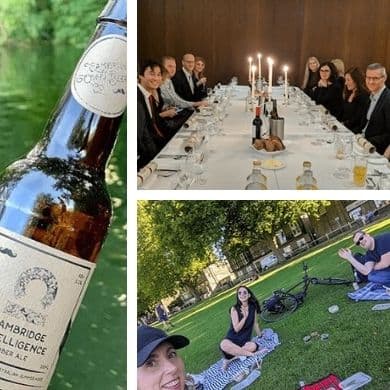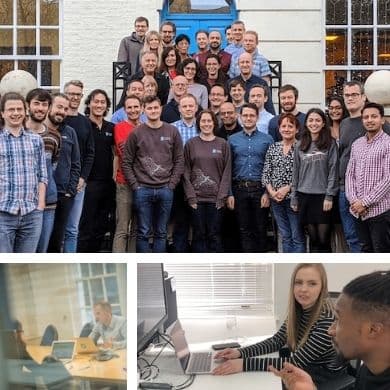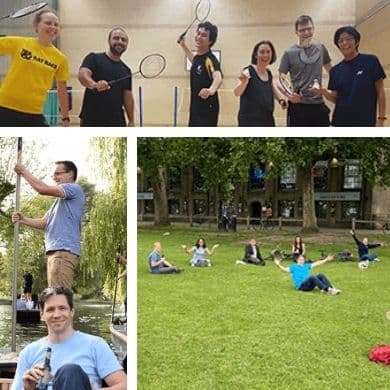 What happens next?
When you apply, we'll be in touch as soon as possible to get the ball rolling.
We'll then follow four steps to get to know you better.
1. Phone interview

Duration: 30 minutes
With: our talent manager
To check: you're right for the role
Preparation needed: review your your CV, re-read this job advert, and have a look around our website more generally.

This is an informal conversation to make sure we're not wasting your time.

We'll check if you have the right experience for the role and give you a chance to talk up your skills and achievements. We'll also discuss your reasons for wanting to join the team.

2. Video call

Duration: about 30 minutes
With: a member of the marketing team

This is an informal chat about your experience and reasons for applying, and to answer any questions you have about the roleYou don't need to prepare anything, but if you'd like to share any relevant examples of your work then please do.

3. Panel interview

Duration: about 90 minutes
With: Andrew, our Marketing Director – and other members of the marketing team
To check: your experience, knowledge and skills, and how you approach a challenge

As before, no prep is needed, but feel free to show us some of your previous work if it's relevant to the role.

This is an opportunity for the whole team to talk to you in more depth about your background and your reasons for applying; and a chance for you to ask the wider team about the role, and about life at Cambridge Intelligence.

3. Last chat

Duration: 30 minutes
With: Joe, our CEO
To check: your motivations and aspirations
Preparation needed: none

This final step is an informal chat with our founder and CEO, Joe. He'll be interested to hear about your motivations for joining us, and what you'll bring to the team.

It's also a great chance to understand our business from a strategic perspective, and to see how your career might progress here.

Don't forget: it's a two way thing

Ask questions, share any concerns and let us know if we're unclear. We don't do trick questions, and won't aim to confuse you.