So, you're an IT enthusiast who loves to solve problems and help people?
As an IT Assistant at Cambridge Intelligence, you'll support colleagues with both hardware and software support, including maintenance and set up.
What's involved?
This is a great opportunity for someone who wants to learn and develop their career in a growing tech company. No day will be the same with a new challenge to solve or topic to learn about.
You will work closely with our Head of Security and Office Manager to ensure that everyone can do their job effectively with all the equipment and software they need. You will provide reactive support to IT issues and work proactively to ensure equipment, tools and systems are set up and running well.
Who's the ideal candidate?
You'll need to be an IT-savvy problem-solver who takes pride in helping people.
Maybe you have a qualification in IT or software and want to develop your professional experience in this field. Or you might have professional experience in IT support but need a fresh challenge. Whilst this role involves a lot of support, the successful candidate will be inquisitive and independent in their approach to solving problems.
We're looking for someone who can find solutions and solve a variety of problems, someone who can show initiative and "think on their feet". Someone with a strong interest in technology, computing and IT who wants to gain broad experience in the job.
You will be a strong communicator who can explain solutions and work with employees to solve their tech problems. Sometimes you'll train people on the best way to use technology to complete their duties. You may be self-taught or come from an academic background, the work will be varied with a strong focus of fixing, improving, and being hands-on.
You might also have experience of:
Software – Mac OS, SaaS products, Microsoft Office, Google apps, and other productivity and application software
Hardware – setting up and fixing printers, cabling and a range of computing equipment like laptops, monitors and accessories.
Appreciation of computer security, VoIP telephone systems, computer networking and Internet technology.
Systems administration
Who you'll work with
This is a role that touches every part of our business. You'll be a key member of the operations team, working especially closely with our Head of Security, Office Manager and COO.
Opportunities to grow
This is an amazing opportunity to develop as the company grows. It will start with supporting the Head of Security, being hands-on, but with dedicated training you'll take on more responsibility. There will be lots of new challenges to tackle as we grow and a new variety of tasks will arise as you embark on the next stage of your career.
Be yourself
We want to build a fair, respectful and welcoming company, where everyone feels at home. That means taking a long-term approach to equality, diversity and inclusion – not treating it as a tickbox exercise.
With the help of our EDI group, we're working to make every aspect of the business – including recruitment – fair, respectful and inclusive.
Download the job description [PDF]
Life at Cambridge Intelligence
Our data visualization tools are part of something big. They help catch criminals, stop cyber-attacks and unmask fraudsters. The work we do matters.
Our people are part of something big too – all great individually, but even better together. From developers to marketers, salespeople to accountants, we're a smart and inquiring bunch who love finding neat solutions to gnarly problems.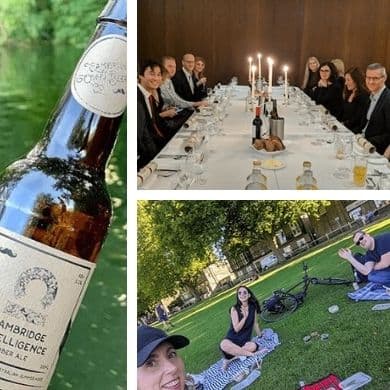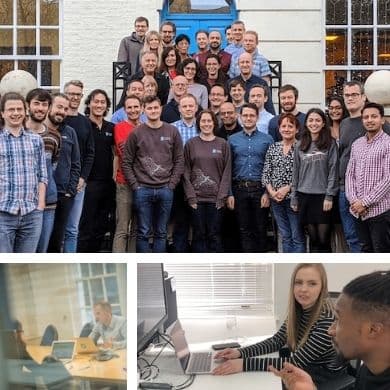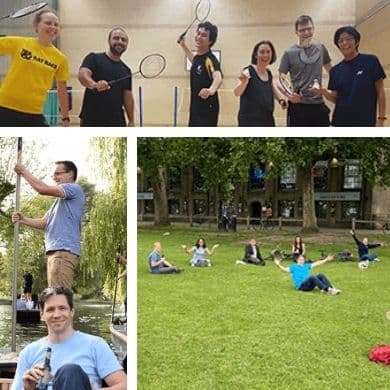 What happens next?
When you apply, if we agree that you seem a good fit, we'll be in touch as soon as possible to get the ball rolling.
Our recruitment process varies by role, but we usually follow four steps to get to know you better.
1. Phone interview

Duration: 30 minutes
With: our talent manager
To check: you're right for the role
Preparation needed: review your your CV, re-read this job advert, and have a look around our website more generally.

This is an informal conversation to make sure we're not wasting your time.

We'll check if you have the right experience for the role and give you a chance to talk up your skills and achievements. We'll also discuss your reasons for wanting to join our team.

2. Panel interview

Duration: about 60-90 minutes
With: yourself, in your own time
To check: your experience, knowledge and skills, and how you approach a challenge
Preparation needed: your presentation

This is your time to shine!

We'll ask you to prepare a short presentation, which you'll share during the interview.

Don't panic, though! This isn't designed to stress you out or trip you up. We want to see how you approach the kind of challenges you'll be solving if you were to join us.

After the presentation, we'll ask you some questions and then give you plenty of time to ask your own.

3. Last chat

Duration: 30 minutes
With: Joe Parry, our CEO
To check: your motivations and aspirations
Preparation needed: none

This final step is an informal catch-up with our founder and CEO, Joe. He'll be interested to hear about your motivations for joining us, and what you'll bring to the team.

It's also a great chance to understand our business from a strategic perspective, and to see how your career will progress here.

Don't forget: it's a two way thing

Ask questions, share any concerns and let us know if we're unclear. We don't do trick questions, and won't aim to confuse you.