Help us showcase the potential of our data visualization tools
This is a golden opportunity to own our visual design function, influencing
the whole look and feel of our world-leading data visualization products.
What's involved?
We need your help to translate our product vision into beautiful visual designs for the intelligence, anti-fraud and cybersecurity sectors.
These could be prototype mockups of future features or products, site designs for our customer developer resources, or new demos which showcase the powerful data visualizations our products provide.
You'll own the overall appearance of our product sites, and help us enforce strong design principles and visual consistency across all our products.
Who's the ideal candidate?
It's essential that you have experience of design within a software setting, and you may be currently working as a UI/UX or graphic designer within this environment. You'll have experience of design tools such as AdobeXD or Figma, along with an impressive portfolio of software UI, website or data visualization designs.
You may also have experience of data visualization, front-end development (e.g. HTML, CSS, JavaScript), or UX design (including usability testing) – but the most important thing is an eye for creating compelling and beautiful product designs.
Who you'll work with
You'll work in the Product Team but you'll be communicating your design ideas and prototypes to our development teams, and also working closely with our marketing team to provide input on some of our market-facing collateral.
Opportunities to grow
You'll join us as the company goes through another phase of growth – and you'll have the opportunity to grow along with us, learning from some of the most talented product managers and developers in the data visualization industry.
Be yourself
We want to build a fair, respectful and welcoming company, where everyone feels at home. That means taking a long-term approach to equality, diversity and inclusion – not treating it as a tickbox exercise.
With the help of our EDI group, we're working to make every aspect of the business – including recruitment – fair, respectful and inclusive.
Download the job description [PDF]
Life at Cambridge Intelligence
Our data visualization tools are part of something big. They help catch criminals, stop cyber-attacks and unmask fraudsters. The work we do matters.
Our people are part of something big too – all great individually, but even better together. From developers to marketers, salespeople to accountants, we're a smart and inquiring bunch who love finding neat solutions to gnarly problems.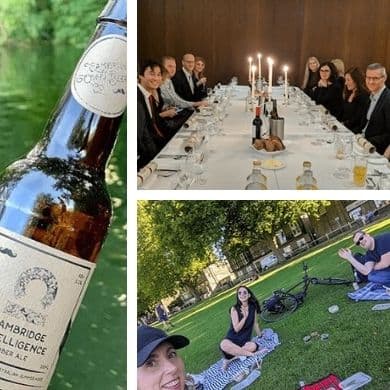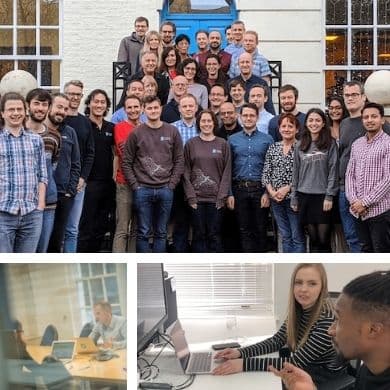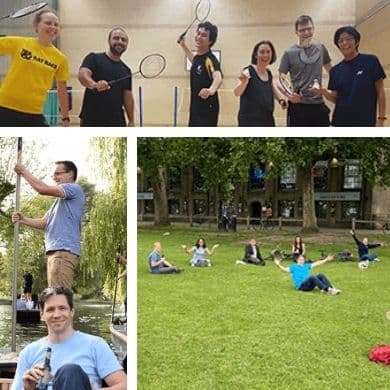 What happens next?
When you apply, if we agree that you seem a good fit, we'll be in touch as soon as possible to get the ball rolling.
We'll follow four steps to get to know you better.
1. Phone interview

about half an hour30 minutes
With: our talent manager
To check: you're right for the role
Preparation needed: review your your CV, re-read this job advert, and have a look around our website more generally.

This is an informal conversation to make sure we're not wasting your time.

We'll check if you have the right experience for the role, and give you a chance to talk up your skills and achievements. We'll also discuss your reasons for wanting to join our team.

2. Video call

Duration: about half an hour
With: Dan Williams, our Head of Product
To check: your experience, motivation and fit for the role
Preparation needed: none

3. Panel interview

Duration: about 90 minutes
With: a developer, a member of our marketing team and our head of product
To check: your experience, knowledge and skills, and how you approach a challenge
Preparation needed: your portfolio

This is your time to shine!

We'll ask you to talk us through your portfolio, which you'll share at the start of the interview.

4. Last chat

Duration: 30 minutes
With: Bryan Amesbury, our CEO
To check: your motivations and aspirations
Preparation needed: none

This final step is an informal catch-up with Bryan, our CEO. He'll be interested to hear about your motivations for joining us, and what you'll bring to the team.

Don't forget: it's a two way thing

Ask questions, share any concerns and let us know if we're unclear. We don't do trick questions, and won't aim to confuse you.