The cyber security visualization challenge
Cyber threat analysts have a tough job.
They need to understand big, complex, high-velocity data from across their organization. They need to know which of the billions of alerts raised each day demand an immediate response. They need to spot and predict fast-evolving threats from unpredictable sources.
If they fail, their organization is at risk of malicious attack.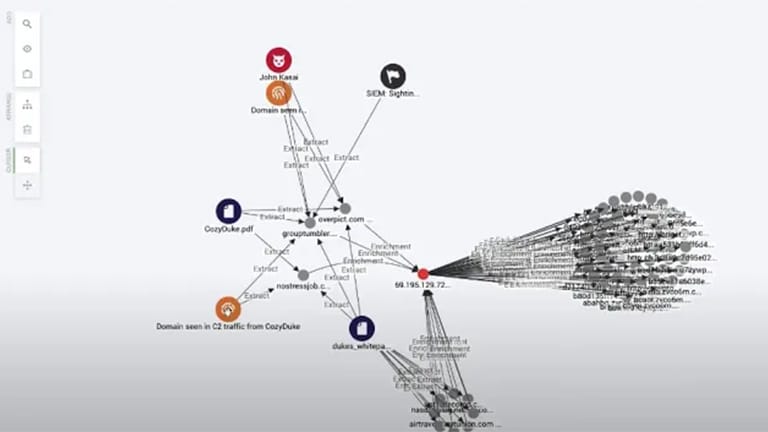 Predict: Visualize cyber threat intelligence
Understanding cyber threat intelligence is key to the cyber analyst's job. They need to identify which threats exist, and how they could impact the organization.
There's no shortage of intelligence available. The challenge is making sense of it and sharing the insight. That's where graph visualization and timeline visualization is crucial.
Cyber threat intelligence is densely connected. Visualizing those connections as a graph uncovers the patterns, outliers, and anomalies in a way that reveals your threat landscape and the kinds of attacks you might face.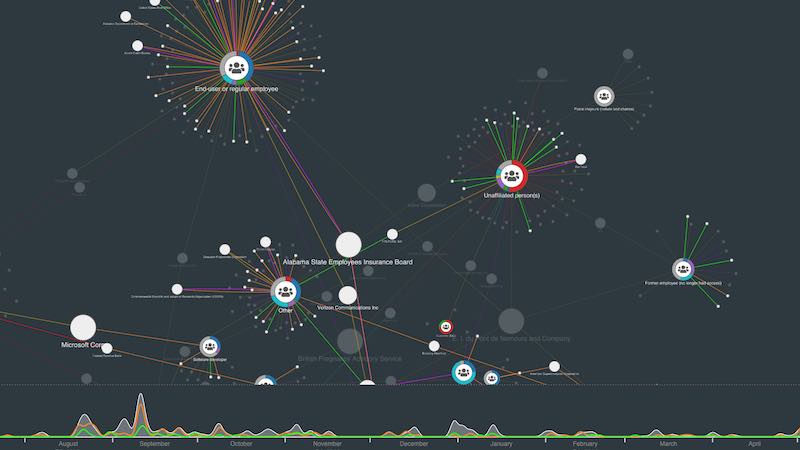 Analysts need to see cause and effect. Combine graph and timeline views in a cyber security visualization to reveal how and why cyber threats happen, and their impact on the network.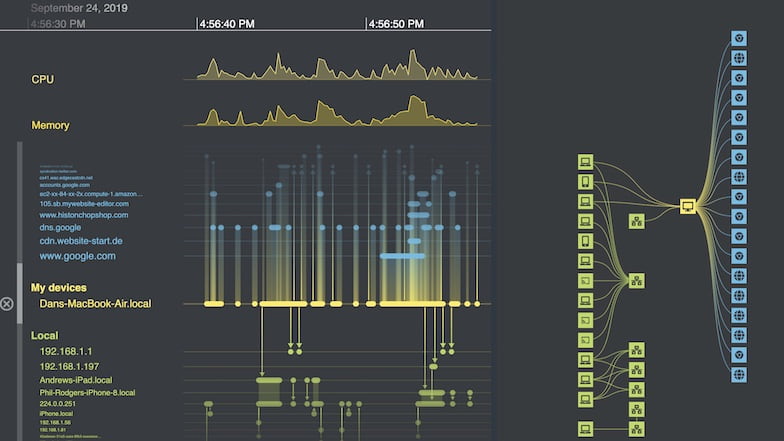 Learn more in our white paper
We've helped governments, banks, and leading software vendors build powerful graph visualization tools for their cyber threat intelligence analysis.
Monitor: build smarter SOCs with data visualization
Every day, billions of alerts are raised across networks. Security Operations Centres (SOCs) have to make sense of what's going on. These central hubs provide visual interfaces and dashboards tracking alerts and activities to help analysts monitor and respond in real-time.
Interactive graph visualization and timeline visualization functionality is an essential component of an effective SOC, providing a fast, intuitive and insightful view of the data.
Using interactive graph visualization we can see events unfold in the network at a glance, powering cyber threat analysis processes.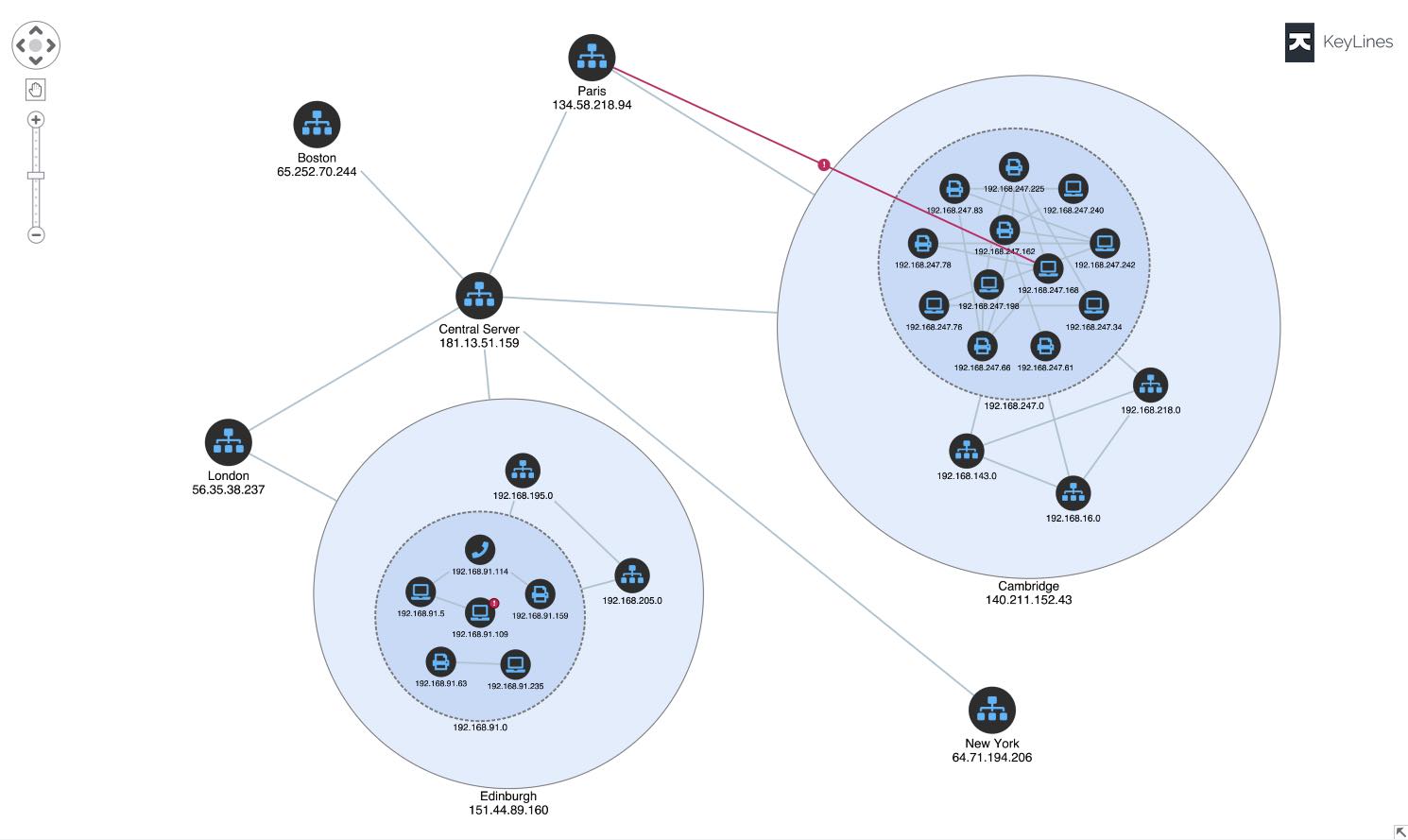 Investigate: understand attacks and fix vulnerabilities
The complexity, scale and fast-changing nature of cyber threats mean that – even with the most efficient defenses – breaches are inevitable in most large organizations.
Cyber resilience and effective forensics can ensure breaches are quickly identified and vulnerabilities patched before serious damage can take place. Cyber security data visualization is key to this.
Root cause analysis, powered by advanced data visualization, reveals what happened during an incident: the attack vectors, vulnerabilities, affected devices and scale of damage.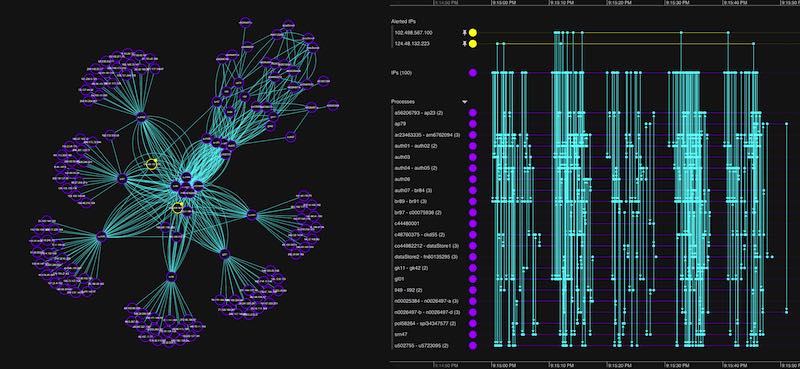 Custom cyber security data visualization
We work with businesses, governments and software vendors worldwide to create the next generation of cyber threat intelligence analysis tools.
Using our graph visualization and timeline visualization technologies, they've been able to build interactive applications that join the dots and reveal the cyber threat intelligence they need to understand.

Get answers faster
Discover new dimensions to your cyber data that aggregated methods can't show. Timeline and graph visualization techniques reveal insight in a uniquely intuitive way, leading to faster decisions and fewer missed threats.

See the full picture
Interact with data from across the organization in a single chart. Our products' flexible approach means you can overcome silos and gain insight from cyber data from multiple sources, giving you a clearer, more complete picture of events.

Build beautiful visualizations
Build visualizations specifically for your users, your data and the questions you need to answer. Every aspect of the tools can be customized, from the functionality to the look and feel. The result: a beautiful visualization that fits seamlessly with your application and your users love to use.

Stay ahead of the game
We work year-round to design new functionality that can be quickly added to our customers' applications. With our help, you'll have the best visualizations around and constantly stay ahead of your competition.
Want to try it for yourself?
KeyLines
Graph visualization for JavaScript developers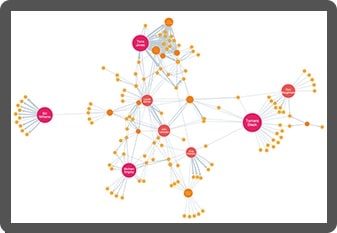 Code how you like and build link analysis apps that work with any stack.
ReGraph
Graph visualization for React developers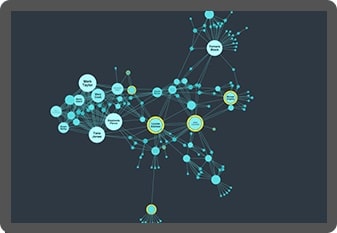 Use a simple data-driven API to build customized graph visualization apps in React.