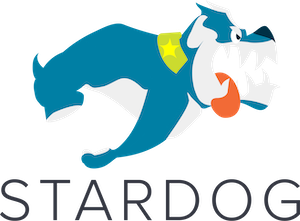 We're delighted to announce that Stardog, the knowledge graph platform for enterprises, is the latest partner to join the Cambridge Intelligence Technology Alliance.
Starting as a research project at the University of Maryland's AI lab, Stardog has grown rapidly since its launch back in 2010. Now located in Virginia, USA, their mission is to empower every organization to make the best decisions possible by overcoming the data silo problem.
Stardog lets users query, search and analyze all enterprise data, no matter where it is, what type it is, or how often it changes. Their powerful Resource Description Framework (RDF) data model, queried using SPARQL, combines a graph database with an AI-based knowledge toolkit.
Corey Lanum, Cambridge Intelligence's Commercial Director said:
We're delighted to welcome Stardog to our technology alliance. Integrating their scalable knowledge graph technology with KeyLines is quick and easy to achieve, thanks to KeyLines' database-agnostic approach.

We're looking forward to joining forces with Stardog to meet future challenges posed by ever-increasing data variety and scale.
Virginia Hewitt, Stardog's Director of Partnerships was also pleased:
I'm excited that Stardog now seamlessly connects to KeyLines, making graph insight available to all who need it. Stardog and KeyLines are both committed to helping organizations overcome data silos. The integration of Stardog's knowledge graph technology allows users a simpler way to unify, query, search and analyze all their data.
About the Technology Alliance
Our Technology Alliance is formed of industry-leading organizations whose products and services complement our own offering. Existing members include Microsoft Services, Neo Technologies and DataStax. They share our mission to help people understand complex connected data, and offer high quality tools that can be seamlessly integrated with our own.
About Stardog
Stardog is the leading Enterprise Knowledge Graph Platform. Stardog's proprietary software allows customers to query massive, disparate, heterogeneous data regardless of structure. Stardog's customers include name brands companies in finance, healthcare, life sciences, energy, media, and government. The company is headquartered in Arlington, Virginia. Stardog Union is a privately held, venture-backed company.