Knowledge graph visualization
Organizations increasingly rely on knowledge graph tools to make the most of their growing volumes of data.
Information from across the enterprise is integrated into a single, large network. The network contains a semantic model of the data for users to query and explore. In this way, raw data transforms into knowledge.
Effective knowledge graphs are accessible to everyone – not just developers and expert analysts. That's where visualization is critical.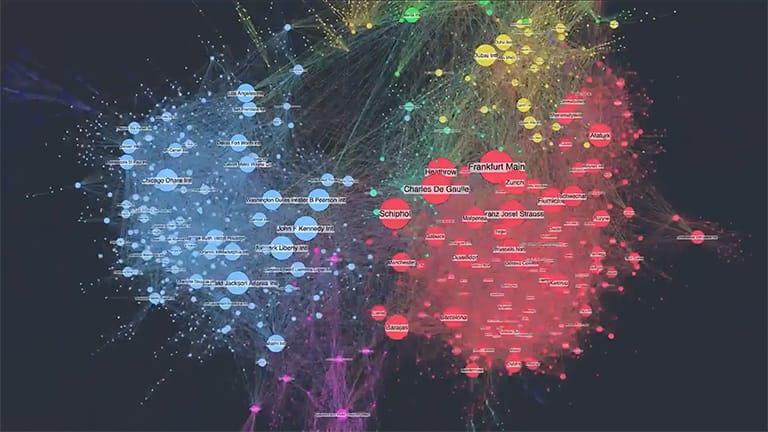 Knowledge graphs are inherently visual. Data visualization – especially graph visualization and timeline visualization – brings them to life, making them more tangible, intuitive and useful.
Let's see some examples.
Who uses knowledge graphs?

Retail and e-commerce
Building an outstanding customer experience reduces churn, increases lifetime customer value, and generates revenue. Bringing all customer interaction data into a single place (Customer 360) makes it easier to make better, more profitable, decisions.

Finance
Modern finance generates data on a massive scale. Connecting and visualizing it provides a rich source of insight, helping retail banking to maximize customer value, fraud analysts to detect unusual activity and compliance managers to stay compliant.

Pharma and bioscience
Research-intensive organizations generate vast volumes of information, siloed in datastores and files across the enterprise. Knowledge graph visualizations make enterprise-wide search possible and data discovery faster and more insightful.
This is just a sample – any organization that needs to collate disparate data into a single unified view and apply their own taxonomy with see benefits from visualizing their enterprise knowledge graph.
Enterprise knowledge management
Successful businesses understand their data, but making sure everyone can access the right data at the right time is a difficult challenge.
Whether it's a researcher navigating intellectual property and scientific data, or a customer service agent deciding the next up-sell opportunity, knowledge graph visualizations connect information from different domains, models and formats into a single view.
Graph-powered enterprise search and data discovery reveals connections between real-world entities. This gives researchers an intuitive way to explore domain knowledge.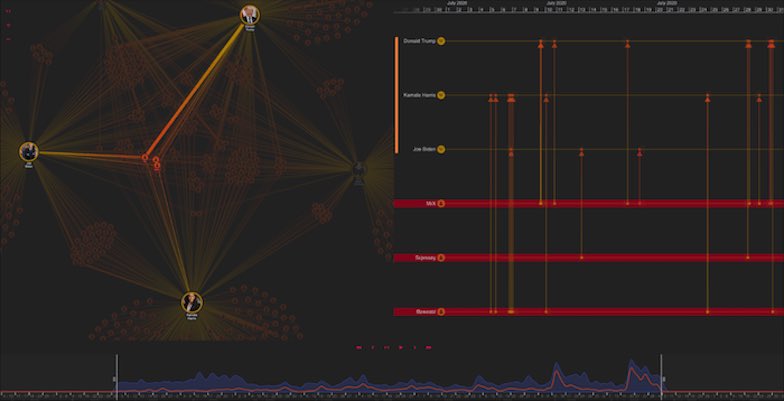 Customer 360 platforms harness knowledge graphs to give a holistic overview of customers – or in this example – patients. Easy access to this information supports strategic planning and complex decision-making, as well as tactical day-to-day decisions made by customer-facing staff.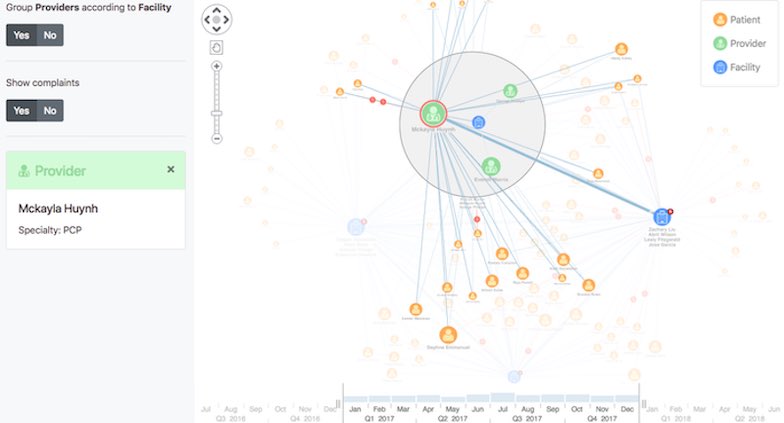 Learn more in our white papers
We've helped governments, banks, and leading software vendors visualize their data.
Risk management & knowledge graph visualizations
Knowledge graphs create opportunities to manage complex risks and threats in a more sophisticated way. When you present complex and disparate data in a tangible, navigable format, users perform more reliable situational analysis and threat detection. There's a clearer understanding of the potential impacts of decisions.
The increasing scale and complexity of laws and regulation make compliance an increasingly data-intensive exercise. Knowledge graph visualizations give compliance managers the tools they need to meet "know your customer" regulations and perform more sophisticated compliance checks across the whole business.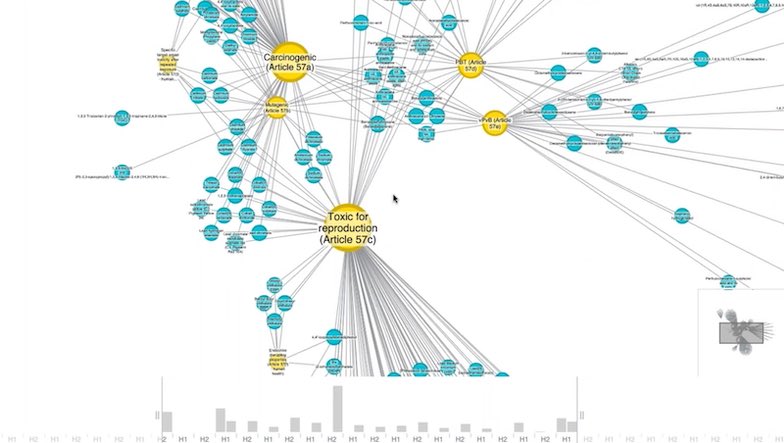 Fraud management is about understanding connections. Knowledge graph visualizations gives fraud investigators an intuitive interface to understand complex connections between people, accounts, transactions, and anything else they need to understand.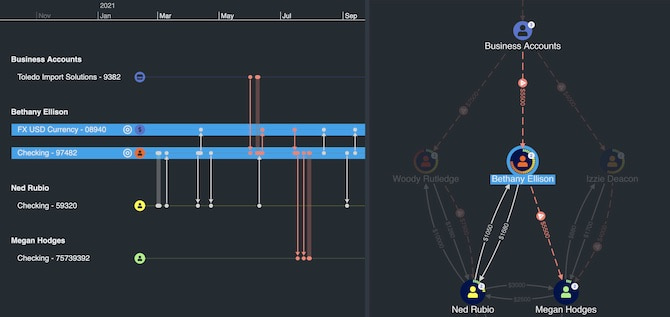 Knowledge graph visualizations driving process optimization
In a connected environment, small decisions can have big consequences. Organizations need to understand how their systems and processes are connected so they can manage them responsibly. That means knowing where dependencies and relationships exist.
Knowledge graph visualizations reveal this level of insight. They help decision-makers change direction with confidence, knowing it'll have a positive impact on the business.
A supply chain is a tightly-interconnected system with a huge network of dependencies. Visualizing these dependencies gives managers the oversight they need to adapt to changes, optimize existing processes and trace materials through every stage of the supply chain.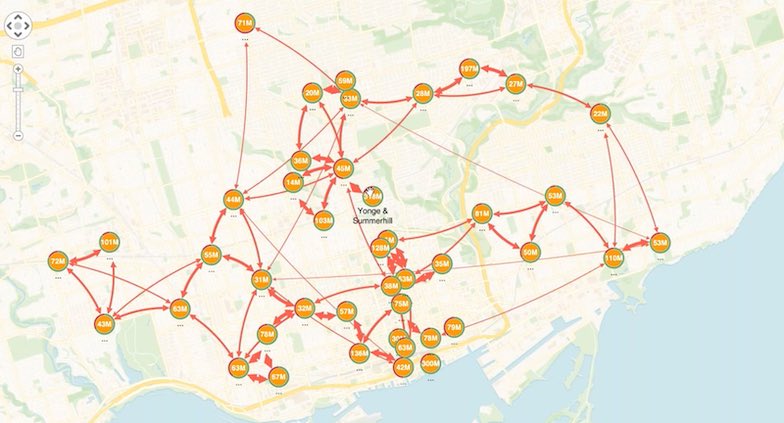 Build a powerful knowledge graph visualization
We've worked with hundreds of organizations worldwide, from national governments to innovating start-ups, helping them to build powerful visual interfaces for their enterprise knowledge graph platforms. Why do they choose us?

Overcome data silos
Bring together data from across the organization in a single chart. Our flexible approach means you see a full 360 picture of all your data.

Make faster decisions
Discover intuitive ways to explore your knowledge graphs. Timeline and graph visualization reveal data connections, leading to faster and better decisions.

Custom visualizations
We help customers visualize their most complex semantic ontologies, translate subject-predicate-object terminology into RDF Triple Stores, and query them using SPARQL.

Scale across teams
Knowledge graphs are most powerful when everyone can use them. Intuitive visualization empowers everyone to see connections in data – from data scientists to the CEO.
Want to try it for yourself?
KeyLines
Graph visualization for JavaScript developers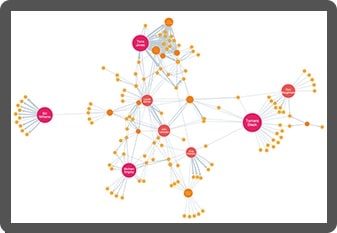 Code how you like and build link analysis apps that work with any stack.
ReGraph
Graph visualization for React developers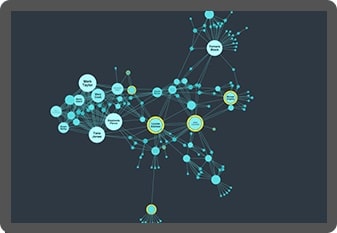 Use a simple data-driven API to build customized graph visualization apps in React.