Young people entering the world of work today face perhaps the most complex and fast-changing labor market in history. The gig economy, robotics, AI, 3D printing, autonomous vehicles… All these advancements mean young people will need to navigate their way through a lifetime of roles, continuously adapting and learning.
Become Education is an Australian company creating imaginative and engaging tools to help young people prepare for 21st century careers.
In this blog post, we'll see how Become Education use graph visualization, powered by KeyLines, our JavaScript graph visualization SDK, to equip children with the skills and knowledge to design their own lives.
Improving careers advice with graph technologies
While careers have changed dramatically in recent years, careers counseling has not. Many schools rely on a one-size-fits-all approach, taking place late in the students' school years, using static information.
The vision behind Become Education was a process that put the student in the driving seat. Using an app, they would explore careers, and build plans that they could develop and adjust throughout their lives. A framework for their lifelong learning.
Co-founder and CTO of Become Education, David Wilson, explains:
"We wanted to encourage children to use their skills, motivations, and ambitions to explore careers and get personalized advice. For that to work, our approach had to be engaging as well as enlightening. We wanted to build an experience that encouraged curiosity, helping them to explore the vast network of career opportunities out there – without information overload."
David's experience as a full-stack developer and information systems designer led him to graph technology – a genre of tech optimized for densely connected data.
Building an engaging visual interface
For the application to be useful, it had to be accessible to children and adults. That gave the Become Education team some specific requirements of their graph visualization solution:
Web-based and tablet-friendly – the application had to be easy to access, from any device and any location. Web deployment and cross-device compatibility was a must.
Engaging and interactive – developing awareness and then navigating tens of thousands of careers options could easily become overwhelming. The team were keen to avoid that using graph exploration techniques, including incremental loading, node collapsing and animation.
Visually customizable – design and color is an important part of building engaging software, so the ability to style the application was crucial.
Save and load – to support a workspace system that allowed students to create and maintain their own career plans.
David realized that these requirements, along with the need to maximize their development resource, made a software development kit (SDK) the most suitable solution:
"In KeyLines, we found a toolkit that met all of our criteria. I needed a mature, performant and reliable API, with fantastic documentation and examples. It also had to be GDPR-proof, with assured privacy via self-hosting and no data flow-back to the SDK provider. We also needed easy integration with the Vue JavaScript framework and ArangoDB graph database."
The KeyLines SDK allowed them to build a quality visualization tool quickly, get the application into schools faster and spend more time generating rich data.
Exploring the career graph
The application is being used by schools across Australia in the BECOME.ME Program, and they are now launching globally.
KeyLines has been used to provide an interactive way to explore a vast taxonomy of 64,000 different job roles. There are three ways to start that journey:
The initial loading screen shows a number of industries as starting points for further exploration.
1. Incremental exploration
This approach begins with a high-level overview before honing in on increasingly specific job roles. The student can then learn more about select specific jobs of interest, and save them to their log to review later.
To help the students navigate the graph, the Become Education team have used some smart UX design:
Zoom to fit – as the student navigates the graph, KeyLines zooms into to area of interest, eliminating chart clutter and keeping the user focused
Collapse and expand – as new nodes are expanded, old nodes are collapsed, limiting the amount of information on the screen at one time
Pings and halos – the yellow rings (called halos or 'pings' when animated) help the student keep track of where they are in the graph
Combined with smooth animation, these techniques make it easy to navigate the 64,000 job roles and 1,300 categories.
2. Search and load
This approach suits those with a specific role in mind, allowing them to perform a search to return a graph or related job roles, with information about each:
The neat graph layout helps to show clusters of related roles, without obscuring the picture with overlapping nodes. Also, using a square for the original node helps the student find their way around the graph.
3. Filter by subject
The final approach allows the student to filter the graph by school subjects before starting to explore: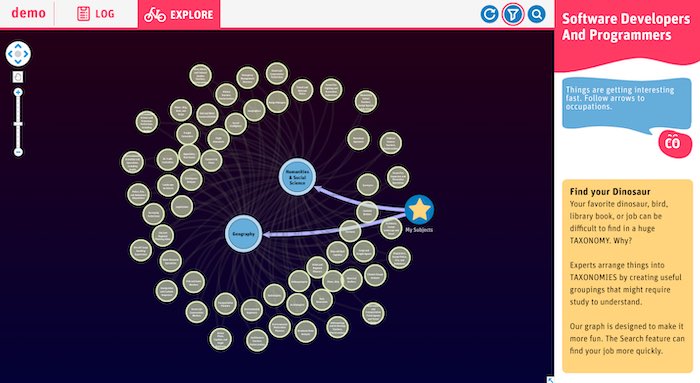 This clever use of filters removes a huge number of options, allowing the student to quickly find their way to the most relevant roles.
So far, feedback has been positive. David Wilson explains how one tough customer was won over:
Prior to usability testing I typically give parents an opportunity to explore the app unobserved. This helps them evaluate what I want the child to experience. One mom was certain that the application wouldn't work. She took a couple of pages of notes explaining that our data was too big and the network presentation would be frustrating.
Two hours into the test session we brought it reluctantly to a close. Two hours of laughter and discovery with the children exploring while in a timeless zone of focus – certainly not a chore. Mom learned several things from her kids (including navigation) and was happy to report that the 10 year old declared "that was extremely interesting!"
As for their experience with KeyLines:
"For us, our investment in KeyLines was money wisely spent on a fantastic tool, backed by incredible and proactive development and support team. Kids and teachers love it as much as we do!"
The future: recommendations powered by machine learning
The team at Become Education have big plans for the future. Future versions of the application will include enhanced filtering and exploration techniques, as well as a richer data model and more accurate and specific results.
The goal for the application is to become a powerful, personalized careers advice platform and recommendation engine, powered by the ArangoDB graph database, KeyLines and machine learning. We'll keep you updated!