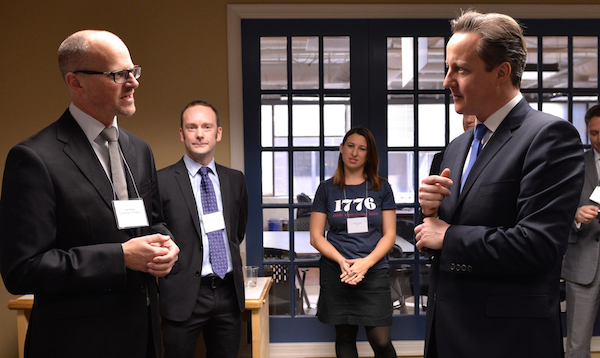 Joe Parry, CEO of Cambridge Intelligence, joined the Prime Minister's trip to Washington this week, representing the best UK cyber security SMEs.
Joe Parry, CEO of Cambridge Intelligence, joined David Cameron on a trip to Washington this week, as he announced significant new investment and initiatives aimed at protecting the UK's online interests.
The business delegation featured 12 leading UK SMEs, including fellow Cambridge firm Dark Trace, selected by Number Ten for their reputations for innovation in the cyber security sector.
During the trip, the CEOs shared the latest cyber security thinking and discussed collaboration opportunities with high-ranking officials from across the US federal government and security agencies. Other highlights included roundtable discussions with industry leaders from the American Bankers Association and meetings with some of the world's largest defence and military contractors.
Cambridge Intelligence is fast gaining a reputation as one of the most innovative young companies to come from the Cambridge technology cluster. The firm specializes in technologies to find meaning in complex connected data, which was praised by the Prime Minister:
The UK is already leading the way in cyber security and this government is committed to ensuring it continues to be a leader in this multi-billion dollar industry. That's why on this trip I'm showcasing some of the leading UK cyber security companies including Cambridge Intelligence who will have the chance to meet investors and build their business in the US.
This week's trip to Washington followed a similar appointment in Downing Street last week, which saw Joe take part in cyber security roundtable discussions with several of the Prime Minister's senior advisors.
On both trips, Joe urged for the need to make more extensive use of data analysis and visualization techniques at both a government and industry level in order to achieve greater cyber security.  Following the meeting with David Cameron, Joe said:
A better understanding of the connectivity within the data is crucial to tracing the modus operandi of bad actors within networks.
Increasingly, our technology is used to visualize cyber security data, such as suspicious or fraudulent account activity, the digital footprint of online transactions, and longer-term threat behaviors.
We are grateful to the Prime Minister for his support of innovative smaller businesses. We are already operational in the US but this visit has helped us strengthen our existing relationships and forge new ones. We are looking forward to playing our part in building more comprehensive defensive capabilities with both commercial partners and government agencies.